Guatemala's First Couple 'team' ready for September's presidential election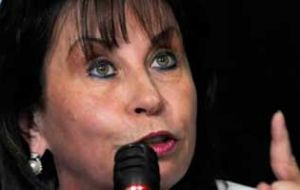 A Guatemalan judge granted the country's First Couple divorce petition thus opening the way for First Lady Sandra Torres to run in September's presidential election for which her husband President Alvaro Colom is barred under constitutional rule.

The couple filed for divorce on March 11 and family court Judge Mildred Roca reached a decision last week, but had to delay issuing her ruling until other magistrates ruled on 15 separate motions filed by various groups and individuals trying to block the divorce.

All of the motions were rejected as inadmissible, ill-advised or "frivolous," a Supreme Court spokesman officially reported.

The plaintiffs who filed the challenges accused Torres of engaging in "legal fraud" to evade the constitutional provision that bars close relatives of the president from seeking the highest office.

The Colom-Torres divorce has set off an avalanche of criticism from opposition parties and conservative elements of Guatemalan society.

Torres announced on March 8 that she planned to run for president as the candidate of a coalition of Colom's UNE party and the Great National Alliance.

Retired General Otto Perez Molina, pre-candidate of the right-wing Patriot Party, currently leads in opinion polls with a vote intention of 47.2%, well ahead of former Mrs. Torres de Colom 13.7%.

In 2007 elections the National Unity of Hope headed by Alvaro Colom won the presidency as well as the majority of seats in congress defeating Perez Molina.

Guatemala a close ally of the US has free trade agreements with the US and the rest of Central America through CAFTA and other agreements with Mexico.