IMF presents report to develop a new consumer price index in Argentina
Tuesday, April 12th 2011 - 04:20 UTC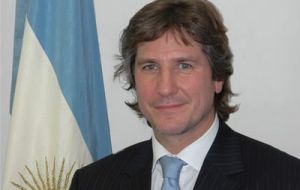 The IMF has presented a report to Argentine authorities with specific recommendations for developing a new, nationwide consumer price index to replace the much-criticized current index, the fund said in a press release Monday.
An IMF mission, on request from the Argentine government, was in Buenos Aires for a week to consult with federal and provincial authorities after the government invited them in to revamp the country's inflation reporting.
The IMF didn't provide details of the recommendations in the report, but thanked officials from the national statistics agency, Indec, as well as authorities from the provinces of Cordoba, Jujuy, Mendoza and Santa Fe for their collaboration with the project.
The credibility of Indec's economic data--especially data on inflation--has been called into question since former President Nestor Kirchner replaced long- serving staff with political appointees in 2007, which led to a sharp divergence between government data and private-sector estimates.
The government of President Cristina Fernandez, Kirchner's widow, denies allegations that it manipulates Indec data. The administration regularly downplays the seriousness of inflation, attributing whatever pricing pressures that might exist in the economy to supply constraints and price gouging.
But prices are soaring amid an economic boom, loose monetary policy and high government spending. The Argentine economy is expected to expand by over 6% this year after growth topping 9% last year. Economists say that inflation is currently running at well over 20% a year, the second highest in South America behind Venezuela, but Indec says prices are rising at about half that rate.
The current index measures prices only in the capital Buenos Aires and surrounding suburbs. The IMF mission aims to help the government develop a new nationwide index, but the institution will likely be very cautious before putting its stamp of approval on the new inflation data.
In fact, provincial indexes paint a sharply different picture than that of Indec. In February, San Luis province's statistics agency DPEyC reported yearly inflation of 21.7% compared with the 10% reported by Indec for Buenos Aires.
Argentine officials have said that they hope to have the new index in place soon, but haven't laid down a timetable.
The implementation of a national CPI is widely expected to be a drawn-out affair as the government wary of changing the current index to avoid legal and political problems. The government's inflation bonds are indirectly linked to Indec's CPI and the chronic underreporting of inflation has short-changed investors, analysts say.
Economists doubt there will be any major changes in inflation reporting prior to congressional and presidential elections in October. Though Mrs, Kirchner has yet to formally declare her candidacy, she is widely expected to seek a second term and has been campaigning as if she effectively was a candidate.
Argentine Economy Minister Amado Boudou will travel to Washington for the IMF's spring meetings this weekend. Argentina and other developing nations have pushed for deep reforms to the institution, which has historically demanded wrenching economic reforms of countries that have sought its financial aid.
"We hope that the IMF continues to become more democratic, keeps changing and above all accepts that the Washington consensus is dead and there isn't one solution for all countries," Boudou told reporters Monday.