The Lynx Mk3 takes off from HMS Ocean for the last time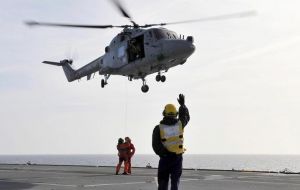 After more than 30 years' service one of the mainstays of Britain's Fleet Air Arm, including the Ice Patrol, has made its final appearance at sea, reports the Royal Navy. Nearly four decades to the day that the very first Lynx helicopter took to the skies, a Mk3 variant lifted off from the sprawling flight deck of HMS Ocean.
The last flight was a short 35-minute hop from the helicopter carrier in the Channel to the home of the Lynx, RNAS Yeovilton. The aircraft – tail number XZ693 – shared the deck of the Mighty O with Apaches, Merlins, Sea Kings, Chinooks, Dauphins and the newer Mk8 Lynx.
The Lynx has been the backbone of destroyer and frigate operations, as well as the Antarctic patrol ship, since 1979. Over the past few years, however, the trusty helicopter has increasingly been replaced in the front line by the Mk8 Saturn.
Inwardly and outwardly the variants are noticeably different: the Mk3 has a smooth nose, while the Mk8's is packed with sensors and kit while the older Lynx's cockpit is more 'analogue', the Mk8's is a digital extravaganza.
Despite the last embarkation of a Mk3 on a warship, don't write the venerable aircraft off just yet. There are still four in service with 702 Naval Air Squadron, the Lynx training unit.
Cdr Mike Ryan, Commanding Officer of the Lynx Helicopter Force, said the Fleet Air Arm could "look back with considerable pride at the Mk3's many operational achievements over thirty years of valuable service".
As for the Mighty O, she's conducting aviation trials in the Channel before she deploys next month with the Cougar amphibious task force to the Mediterranean.