Chinook chopper losses in Scotland and Falklands cast doubt on their safety
Wednesday, April 13th 2011 - 04:42 UTC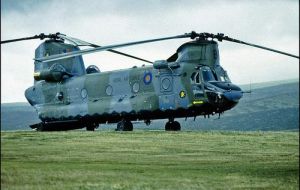 UK Defence chiefs cast doubt over the safety of Chinook helicopters two years before 29 people were killed in the crash off the coast of Scotland. A previous incident in the Falkland Islands dating back to 1987 with the loss of another Chinook was also included in the investigation.
Senior police, Army and MI5 officers were among the dead when a Chinook crashed in thick fog on a remote hillside on the Mull of Kintyre in June 1994 during a flight from Belfast to Inverness.
An initial RAF inquiry in 1995 ruled that the pilots, Flight Lieutenants Jonathan Tapper and Richard Cook, were guilty of "gross negligence" for flying too low and too fast.
But an apparently previously undisclosed report from 1992 suggested there were official concerns over the airworthiness of the RAF's fleet of Chinooks two years before the fatal crash.
It is understood the report, unearthed from the House of Commons library, was not considered in the four previous inquiries into the crash.
Thornbury & Yate MP and Pensions Minister Steve Webb retrieved the document from the library following a request by one of his constituents.
The RAF set up a Chinook Airworthiness Review Team led by a wing commander engineer, because of concerns about "overall management and maintenance" of the Chinook fleet, the papers show.
It said five accidents over six years, and "serious incidents" including un-commanded flying control movements "brought into question" the effectiveness of the fleet.
These include an incident in the Falkland Islands in February 1987 when a Chinook "pitched nose down from about 300ft (91m) and impacted the ground, killing the occupants".
The report concerns the Mk 1 model of the aircraft, but says the issues concern "both present HC Mk1 and the future HC Mk 2 version". It also "considers airworthiness of other helicopter types". It was a Mk2 aircraft that crashed on the Mull of Kintyre in 1994.
A review of the crash is currently being undertaken, headed up by Lord Alexander Philip. It is due to report its findings in the summer.