New Paraguay minister to press for vote on Venezuela's Mercosur incorporation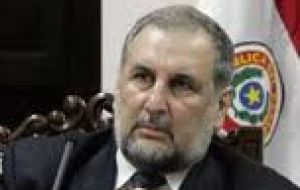 Venezuela in Mercosur will act as a balancing element and Unasur has more than proven its merits, said Paraguay's new Foreign Affairs minister Jorge Lara Castro who insisted the country must work urgently to overcome asymmetries in the region and passive integration is not enough.
"Paraguay can not live isolated. Our geography and our mediterranean condition already limits us so it is imperative the country integrates and Mercosur is a potent tool, but we also need Venezuela inside since it will act as a balancing element", said Lara Castro.
Paraguay still has to take a vote on Venezuela's full incorporation to Mercosur which has already been approved by the other three countries lawmakers, Argentina, Uruguay and Brazil. Paraguayan president Fernando Lugo with an atomized electoral coalition has been unable to muster the sufficient votes in the Senate.
"We need Paraguay to integrate with the region, but also to develop and gradually overcome the asymmetries limiting us. If we remain divided, we're not going to advance much so I think it is time together with Congress to overcome slogans and establish priorities, long term foundations", said the Paraguayan minister.
More specifically on the Venezuelan vote, Lara Castro said all negotiations have a previous step, "know what we are going to negotiate and search for that common ground of understanding and if we manage to overcome that first step, misinformation, different points of view, well I think then we can aspire to more. I'm sure Senators would agree with me on this".
And what about Unasur? "For Paraguay every thing is urgent: we must adapt to changing times because of the different levels of development and rates of growth in the region. We still have the recurrent problems of dengue, poverty, education, why should we not agree with Venezuela in Mercosur and join Unasur?"
Lara Castro said that all South American countries belong to the Union of South American Nations, which has proven its value in defusing regional conflicts. The Paraguayan congress still has to take a vote on Unasur charter.
Finally regarding Brazil, Lara Castro said that in early May he would be travelling to Brasilia, his first trip abroad to meet with his counterpart Antonio Patriota to organize President Dilma Rousseff's first official visit to Paraguay.
"We will be going through the bilateral agenda and ways to improve it. We are satisfied because the Brazilian congress has taken a first positive vote on the 2009 Itaipú agreement", said Lara Castro.
According to the agreement Brazil will triple payments for power from the shared largest operational hydroelectric dam in Itaipu.