Argentine imports' substitution helps March industrial production expand 9.2%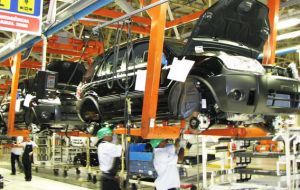 Spurred by strong support from the government, Argentina's industrial production in March jumped 9.2% on the year according to a Monday release from economic advisors Orlando J Ferreres & Asociados, OJF.
Strong domestic consumption and exports have fuelled the Argentine economy led by steep gains in machinery and equipment, food and base-metals production. Car makers have led the charge with a 22% year-on-year gain in machinery and equipment production during the first quarter, OJF said.
In March, car makers produced 70,487 vehicles, up 34% on the year, according to the car manufacturer chamber Adefa. March exports surged 55% to 38,994, with over 80% of those shipments going to neighboring Brazil.
However OJF points out that despite the strong figures, manufacturers face a number of challenges, including capacity constraints and energy-supply problems. In addition, investment is needed to expand capacity to increase production and make up for imports, which have been slowed down by the government, said OJF.
The government of President Cristina Fernandez has thrown up a host of barriers to imports as part of its strategy of boosting import substitution, stimulating local manufacturing and creating jobs.
In related news Argentina posted a primary budget surplus of 1.3 billion Pesos (approx 309 million US dollars) in March, up 6% from the same month a year ago, reported the Economy ministry.
Argentina's economy and tax revenue have grown sharply over the past year, with GDP expanding 9.2% in 2010 and the government expecting growth of over 6% this year. That allowed the government to post a primary surplus of 3.5 billion pesos and a fiscal surplus of 965 million Pesos during the first two months of the year.