China further opens its market to Brazilian beef, chicken and now pork
Thursday, April 21st 2011 - 06:41 UTC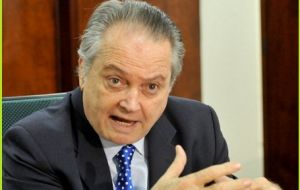 China opened its market significantly for Brazilian beef and chicken said Brazil's Agriculture minister Wagner Rossi on his return from a week long visit to China with a business delegation headed by President Dilma Rousseff.
China added another 25 processing plants to the list of Brazilian chicken suppliers thus totalling, 50, and five more beef exporting plants to the three already shipping to the Asian giant.
"The decision was approved at technical level and will be formally announced in the coming weeks", anticipated Minister Rossi.
During last week's visit Beijing also agreed, for the first time, to authorize Brazilian exports of pork into China, which is the world's leading producer and consumer of pork.
China has become Brazil's main trade partner and is the country's main buyer of soy beans and iron ore. Brazil belongs to the short list of world exporters of meat having totalled sales of 11.3 billion US dollars in 2010, according to official data.
"Brazil is the world' leading producer of beef and second in chicken; we have some of the largest meat exporting corporations in the world, JBS Marfrig and Brasil Foods", said Minister Rossi.
Apparently China is also interested in increasing its purchases of Brazilian corn and is considering fresh citrus imports, added Rossi.
Regarding investments Rossi said China is very much interested in participating in improving Brazil's transport and communications infra structure such is case with ports harbours, railways and fluvial systems.
"One of our targets was to offer investment opportunities in Brazil and this involved several sectors but with special focus on infrastructure", revealed Rossi.