Chilean Army clearing antitank and antipersonnel mine fields in Tierra del Fuego
Friday, April 22nd 2011 - 05:13 UTC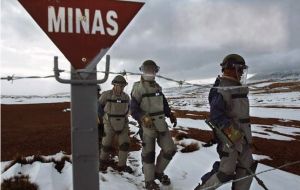 The Chilean Army is currently clearing four fields planted with anti-personnel mines in Tierra del Fuego and will move to another four once the job is finalized, reported the Commander Gonzalo Echeverria, from the 5th Engineers Battalion seated in Punta Arenas.
"Our duty involves not only clearing fields of anti personnel and anti tank mines, but equally important the maintenance of fences, perimeters and signalling of those fields in the whole of Magallanes Region", added the commander who revealed that the region (made up of four provinces, Ultima Esperanza, Magallanes, Tierra del Fuego and Chilean Antarctica) holds 113 fields with explosives and ordnance.
"Once we are finished we are moving to San Sebastián to clear another four fields which hold 'mixed' mines, anti personnel and anti tank explosives, although the 2002 Ottawa convention only refers to anti personnel mines" said the Chilean Army officer.
In the province of Ultima Esperanza (Last Hope) where Puerto Natales and the world famous Torres del Paine national park are located there are 13 minefields containing 4.200 anti tank mines.
However in this area along Route 9 leading to Torres del Paine north of Puerto Natales, opposite Laguna Figueroa there are another five fields with anti-personnel mines, revealed the Chilean officer.
"Our mission is to ensure regularly, that the fields are clearly marked, cordoned off, with all the international signals and tagging identifying them", said Commander Echeverria who added that embankments along the route north protect any vehicle that might have an accident and runs off the road.