Piñera accused of conflict of interest in Patagonian coal mine approval
Friday, April 22nd 2011 - 04:51 UTC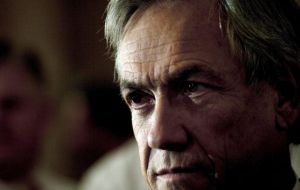 Leading figures in Chile's government were caught up in conflict of interest charges this week, with opposition Dep. Enrique Accorsi accusing President Sebastián Piñera and several of his cabinet ministers of "serious conflicts of interest" when they gave a green light to the Mina Invierno coal mine on Isla Riesco.
Mina Invierno, located in the Magallanes Region of Chile's Patagonia, is the first instalment of a larger coal-mining project envisioned for the island which expects to extract an estimated 240 million tons of coal over the next 25 years. The project received approval from Chile's environmental agency in mid-February, over the loud opposition environmentalists who fear the project commits Chile to 25 years of "dirty energy" at a time of growing concern about climate change.
Accorsi explained that Minera Isla Riesco, the company in charge of the project, is a conglomerate composed of COPEC S. A. and Inversiones Ultraterra Ltda. President Piñera is one of the largest investors in COPEC, said Accosi, "which is very worrying."
The centre-left Party for Democracy (PPD) deputy also noted that Piñera gave his support to the project when he included Minera Isla Riesco in the government's plan for the Magallanes Region, released last November.
"I think it is despicable that a president gives public support and asks to speed up the processing of a project that is subject to environmental assessment when he has investments in one of the controlling companies," said Accorsi.
Accorsi also pointed out that Treasury Minister Felipe Larraín is a former member of COPEC's board of directors, while Economy Minister Juan Andrés Fontaine was a member of the Quiñenco board and Laurence Golborne, Minister of Energy and Mining was a member of the AES Gener board.
Both Quiñenco and Gener are associates of thermoelectric companies that will benefit from the coal extracted from Isla Riesco.
"These people should not take part in these decisions, because they are involved in government positions," said Accorsi.
Defenders of President Piñera point out that his quite considerable stock assets were all put in a blind trust once he assumed office in an effort to anticipate conflict of interest charges such as the one levelled this week concerning Mina Invierno.
PPD president Carolina Tohá was also upset by the apparent conflict of interest and by the likelihood that the project may receive the final government approval in the middle of the Easter holidays, a situation she called "unacceptable."
Defending the project, Dep. Leopoldo Pérez, from the governing RN party and a member of the Health Commission in Congress, blamed previous governments for not implementing an efficient, nation-wide energy matrix, and noted that "the Isla Riesco project meets all the standards required by law, and there is no reason to question it."
By Ignacio Gallegos – Santiago Times