China becomes the largest market for premium luxury Jaguar Land Rover
Tuesday, April 26th 2011 - 02:44 UTC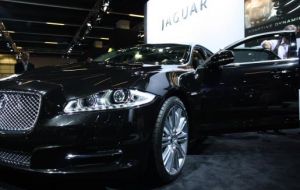 Jaguar Land Rover expects China to become its largest market in the next few years, according to Bob Grace, president of Jaguar Land Rover China, who said that the company aims to sell over 40,000 vehicles in China this year, which will be a significant growth of 54% over last year's 26,000 units.
In an interview with Shanghai Daily at Auto Shanghai 2011, Grace discussed the company's strategy to stand out from the competition as well as its new products, revealing that currently China is the third-biggest market for Jaguar Land Rover, after the United Kingdom and North America. "But the gap is closing very, very quickly".
At Auto Shanghai 2011 the company presented a stunning line-up of models including the world premiere of the Jaguar XJ 3.0, a luxury business sedan specifically developed for China. Land Rover also formally launched its new Range Rover Evoque and the Range Rover Autobiography Ultimate, the most powerful and luxurious Range Rover ever produced.
"The ever-expanding product offering in China underlines Jaguar Land Rover's efforts to speed up expansion in the world's largest auto market, given the company's ambition to be a much more competitive player", said Grace.
These two British brands have been increasing in popularity in China, as evidenced by their strong performance in the first quarter of this year. Jaguar sold 820 units in China for the first quarter of this year, an increase of 39% year on year. Sales of Land Rover surged 49% to 7,745 units.
Many forecasters have predicted luxury car sales in China will reach one million units a year by 2018 to 2020. "I think we will get there much sooner. Jaguar Land Rover wants to be a significant part of it and ready for this growth", added Grace.
Jaguar and Land Rover increased their dealership net from 40 to 60 in 2010 and by the end of the year there will be close to 100. "We built two training academies, one in Shanghai opened nine months ago, and another one opened last week in Beijing. We will soon open our fourth parts distribution centre in Guangzhou".
In related news Jaguar Land Rover CEO Ralph Speth confirmed to Reuters that the company is in talks with potential Chinese partners to set up an assembly plant in China.
"We are still in discussions" Ralf Speth told Reuters. "It takes time and we want to do it thoroughly."
The company has contacted several Chinese automakers including Jiangling Motor Corp Ltd, which is 30-percent-owned by Ford Motor Co, and Great Wall Motor Co Ltd.
Jaguar Land Rover, a unit of India's Tata Motors Ltd , is among a very few top-line global brands that do not have manufacturing arrangements in China, where BMW AG , Audi AG and others have already racked up stellar sales.