Peru's Humala promises good relations with Chile, discards Venezuela's ALBA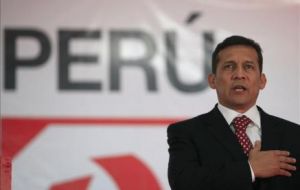 Peruvian presidential candidate Ollanta Humala said that in the event of winning the runoff against Keiko Fujimori he will strengthen relations with Brazil, Chile and the United States as well as with Unasur, and has no intentions of joining Venezuela's Hugo Chavez inspired ALBA.
"We have no intentions of joining ALBA or any other mechanism at this moment, but rather reinforce the integration process with Unasur and consolidate the Andean community of nations, CAN", said Humala (47) who is leading by at least six points in the latest opinion poll over his rival's 36%, although 22% of Peruvians remain undecided.
The Bolivarian Alternative for the Peoples of the Americas, ALBA, is the brain child of President Hugo Chavez and includes Cuba, Bolivia, Venezuela, Nicaragua and a few other Caribbean islands with which Humala in the past, particularly in 2006 when the run-off with President Alan Garcia, he openly sympathized and praised.
Back in 2006 Humala was considered an ultra-nationalist with Chavez support but has since toned down particularly for this election.
His campaign staff includes several influential electoral experts from Brazil's ruling Workers Party of President Dilma Rousseff and former Lula da Silva.
Regarding neighbouring Chile with which Peru has had a long troubled relation, Humala said he plans to work with the Foreign Affairs ministry "to secure relations" which must be based on "reciprocity and looking after national interests".
"I'm not anti-Chilean, I'm a good Peruvian, that's all", said the former military officer who won the April 5 first round with 31.6% of the vote and who will be disputing the run off with former President Alberto Fujimori's daughter Keiko, 23.5%, next June 5.
Anyhow Humala said Chile must apologize for its policies of the past because "dignity is not negotiable, but this does not mean relations are going to deteriorate".
The two countries have a conflict dating back to 1879, the Pacific war, which ended with Chile taking over Peru's most southern province, and more recently a dispute over sea borders (straight or angle line from the coast) which the current Peruvian government has taken to the International Court of Justice in The Hague.
Regarding Brazil Humala praised the last governments (presidents Lula da Silva and Rousseff) for their economic and social achievements and said he supports the "synergy of regional integration".
Since it became evident Humala would be in the run-off and with great chances of becoming Peru's next president, the Lima stock exchange has lost 16 billion US dollars in the last thirty days. Since then he has been doing his utmost to reverse suspicions about his once allegedly radical past and formation.
Meantime Keiko Fujimori on Monday apologized for the "crimes and errors" committed by the government of her father, the imprisoned former President Alberto Fujimori.
The 36-year-old Keiko promised to "never again" let such politics of her father's government occur and promised she would not exonerate her father from the 25-year prison sentence he's currently serving.
"I have to ask for the peoples' forgiveness" she said publicly. "I swear I will not pardon my father" she insisted adding that only the courts can decide on the issue.
Opponents said earlier if Fujimori's daughter was elected Peru's next president, she would likely pardon her father. However, her apology Monday signals a move to distance herself from the controversial politics of her father.
The presidential candidate admitted her father had ruled with an "authoritarian" government from 1990 to 2000, but denied his administration was a dictatorship. Keiko told local television station Frecuencia Latina that she was not responsible for the political debts of her father's regime.
However Keiko also defended the "many positive things" her father had done for Peru such as improving macro-economic stability with descending inflation, fighting terrorism and signing a peace agreement with Ecuador which ended a century-long border dispute.