Falklands' lawmaker resigns; lacks time to share Legislative agenda work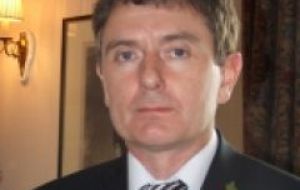 The government of the Falkland Islands confirmed Thursday morning that Glenn Ross has resigned from the Legislative Assembly. A release from Gilbert House states that Members of the Legislative Assembly regret his resignation which with immediate effect, was accepted by His Excellency the Governor.
Mr. Ross who works for the local Power Station ran for election for the first time in 2009 and was elected for the Stanley constituency.
Speaking to Falklands Radio Thursday morning Glenn Ross said that he has had to focus on Power Station work for the past three weeks and anticipates "no change in that for the next two months".
Mr Ross said that Councillors were all elected equally and they need to take equal share of the work and since "he can't do this now, he will make way". He added his decision "should be no problem because there are some very talented good people out there".
"Actually I'm more disappointed than what I can say since I enjoyed being an MLA and it has been a great privilege", emphasized the former MLA who said it was just bad luck that led to his decision.
In the letter of acceptance to Mr Ross Governor Haywood thanks the former MLA "for your letter of 26 April offering your resignation from the Legislative Assembly. I accept it with great reluctance.
"I fully understand the reasons you set out. I know that in recent weeks your work at the Power Station has been particularly time-consuming. You are doing an excellent job there, and I accept that this will be a priority for you, particularly as winter approaches.
"I would like to put on record my appreciation for the commitment you have shown to the role of MLA, both in general and in your farming and agriculture portfolio. I have particularly valued your advice since your election to ExCo at the end of last year. I will greatly miss your input.
"I wish you all the very best for the future and hope that circumstances might allow you once again to stand for election to the Legislative Assembly".