French Navy state of the art space tracking floating lab calls in Montevideo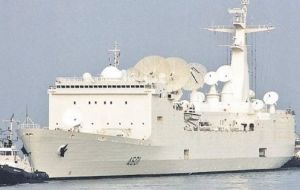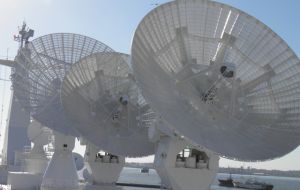 A French navy vessel equipped with state of the art systems for tracking missile launchings and other space objects called in Montevideo as part of its tour of the South Atlantic.
BEM Monge, probably the only vessel of its kind in the world, (Batiment d'essais et de measures) (tests and measurements) is an essential support for the French Space Agency given its extraordinary capacity to detect and track even minor objects at distances of over a thousand kilometres.
"In the first quarter of this year we finished our testing and it was a good opportunity to sail in the South Atlantic for two and a half months", said Captain Daneil Fanjour, commander of the high-tech vessel.
The Navy vessel is mostly contracted by the French space agency and during most of 2010 was involved in the tracking of tests with M 51 missiles. For this she is furnished withy three huge dish radars, making it the world' only floating and mobile testing and measuring lab.
"We track satellites, debris and study the different orbits to notify risks of possible collisions", said Captain Fanjour.
Even when it belongs to the French Navy, "our military tasks are scarce but we have been involved in humanitarian missions, such was the case last year during the quake in Haiti".
Given the extreme precision in the tests and measurements involved, "our instruments have minuscule error margins; for that reason the vessel is totally white thus helping to reflect light and further improve the capacity of the optical instruments", added the French captain.
The sophisticated vessel is 225 metres long and displaces 21.040 tons. The crew numbers 200, fifty of which women and eighty are engineers, technicians and computer experts. BEM Monge is scheduled to leave for Brazil next week.