World Cup, Olympics, excellent opportunity to promote the Brazil brand
Friday, April 29th 2011 - 23:23 UTC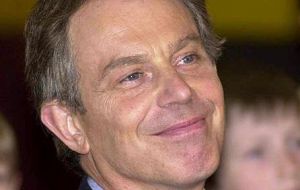 Rio de Janeiro's hosting of the 2014 World Cup and the 2016 Olympics is an unprecedented chance to promote the Brazil brand and ensure a legacy of economic and social benefits, former British Prime Minister Tony Blair said on Friday.
Despite budget overruns by recent Olympic host cities, (including London) and criticism of the huge cost of major sporting events, Blair said hosting such massive events was still worth it for the cascade of social and economic benefits they can bring.
"It's a tremendous opportunity which is why people compete so fiercely to host the World Cup and the Olympics Games," Blair, who played a leading role in the successful London 2012 Olympic campaign, told the World Economic Forum on Latin America in Rio de Janeiro.
"You can use the Olympics as an economic platform to attract in a whole lot of different business and investment that surprisingly can go way beyond the sporting events".
Rio, which will host World Cup games in 2014 as well as the Olympics two years later, is planning a major infrastructure overhaul, including new bus expressways that should have a lasting impact on transport in the beachside city.
Brazil needs to think beyond infrastructure and focus on using the global sports events to build its international brand, as Barcelona did so successfully in the 1992 Olympics, participants in a panel discussion with Blair said.
Just as the Beijing Olympics in 2008 symbolized China's arrival as a global power, the Rio Olympics -- the first in South America -- should raise global awareness of Brazil's rise to a new level.
"It's about the country itself, its character, its nature, the way that it's coming up in the world. That's why this double-header presents an unprecedented opportunity for successful country branding on an internal and external level," said Mark Penn, the CEO of public relations firm Burson-Marsteller.
"As opposed to China, which was already seen as such an economic power which had a lot of risk, I actually think the risk for Brazil is much lower."
Blair acknowledged that Olympic cities had a mixed record. For every Barcelona and Beijing, there is a Montreal or Athens that were seen as failing to secure long-term benefits.
For Rio, much of the media focus is likely to fall on the stark poverty that exists side by side with wealth, most visibly in the slums, or favelas, throughout the city.
"We look at the sports events as a catalyst," said Renato Augusto Villela, Finance secretary for Rio de Janeiro state, who said the Olympic transport projects would have a lasting impact on reducing inequality in the city.
"Why do favelas exist? Because of lack of transportation people have to live in a place that's affordable so they tend to go to the slopes of hills close to the centre of the city" said Villela adding that infrastructure, new housing and transport will create thousands of new jobs.
"Our challenge is to turn those jobs into permanent", emphasized Villela.
Charlie Denson, CEO of sports equipments giant Nike forecasts Brazil will obtain a greater impact than other host countries since with a difference of only two years it will be organizing two major world sport events.
"The South Africa Cup attracted a record number of viewers. The exposure of such an event through the media and internet is incredible and for Brazil a great chance for investments and a long term global legacy", said Denson.