CELAC has not been created to exclude the US or Spain, says Iglesias
Saturday, April 30th 2011 - 10:17 UTC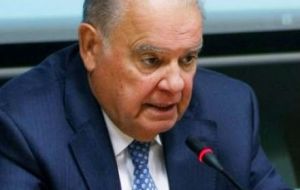 The head of the Ibero-American Secretariat Enrique Iglesias denied that the Community of Latin American and Caribbean States, CELAC, to be created next July pretends to take distance from the United States or Spain.
"I think it is a very legitimate tendency that the same Latin American countries want to solve their problems among themselves. This does not mean they are going to isolate themselves from Spain or Portugal, or even from the United States", said Iglesias currently attending the World Economic Forum taking place in Rio do Janeiro.
CELAC is a new organization which emerged from the Latin America and Caribbean integration and development summit (CALC) and the Rio Group, and completes all members from the Organization of American States with the exception of United States and Canada.
The official inauguration is scheduled for next July 5, in Caracas when Venezuela celebrates its 200th independence anniversary and a summit of regional leaders has been scheduled for the occasion.
Previously Foreign Affairs ministers from thirty countries of the region are to gather in Caracas for a CALC meeting in anticipation of the July 5 summit.
CELAC has been described by its promoters as the most ambitious Latin American integration project without the tutelage from countries outside the region such is the case of United States, a member of OAS, or Spain which is member of the Ibero-American community.
"It's not an initiative to exclude but rather an instance in which Latin American countries are showing they are ready to solve their problems by themselves, and I believe this must be encouraged", said Iglesias.
"I believe these new organizations are trying to, some way or another strengthen this tendency to promote regionalism, and from the Ibero-American community we sympathize with these efforts", added the former Uruguayan Foreign Affairs minister.
Iglesias said that the new initiative will inherit integration experiences from the Rio Group and from organizations linking Latin America with the Caribbean.
"I support regionalism. I believe it is an important force which obviously does not exclude the opening to the rest of the world", insisting the initiative is not an excluding instrument.
Finally Iglesias said that the Ibero-American community does in no way oppose regionalism in Latin America from the moment the integration process has not advanced as much as it was believed to be possible.
"We see regionalism as an effort and desire from Latin American and Caribbean countries to address their own problems with their own solutions, and this I respect and value".