Spain main bank's profits sustained by Latin America branches, mainly Brazil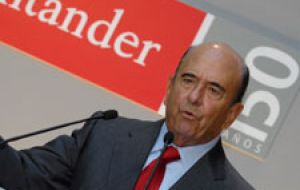 Spain's biggest bank Santander reported first-quarter profit declined 5% as lower earnings at home offset gains in Latin America. Net income fell to 2.11 billion Euros from 2.22 billion Euros a year earlier, the Spanish bank said in a filing Friday.
Earnings from Latin America, led by Brazil where it owns the third-biggest non-state-owned bank, are helping Santander counter as Spanish divisions suffer losses on real-estate loans and shrinking loan books.
Santander, which has so far come through the financial crisis with profit only about 10 percent off its 2007 peak, strengthened its core capital ratio by almost 1 percentage point during the quarter.
Profit from Latin America increased 27% to 1.27 billion Euros, with a 23% gain in Brazil. Lending in Brazil rose an annual 18% in local currency terms.
The second country with most benefits for Santander was Mexico with 376 million US dollar, 80% higher than a year ago. Chile follows with 238 million USD, up 23.4%.
Santander's good performance in Latin America is mainly because of its consumer loans. Last year the bank opened 138 new branches in the region. Of the total 5.895 branches in the region, Brazil has 63% of them. The bank also increased its payroll 3.8% last year and now has 89.841 staff.
"These results show the enormous benefits of geographic diversification," Chairman Emilio Botín, 76, said in a statement.
Santander's core capital ratio, a measure of financial strength, rose to 9.66% from 8.8% in December as it reduced risk-weighted assets and sold convertible bonds in Brazil. It will keep the ratio above 9% this year even as the purchase of Poland's Bank Zachodni WBK SA shaves off about 60 basis points, the bank said. A basis point is one hundredth of a percent.
Santander will press ahead with plans for an initial public offering of its U.K. business in the second half of this year, Chief Executive Officer Alfredo Saenz said on a webcast for analysts.
Bad loans as a proportion of total lending at Santander rose to 3.61% from 3.55% in December and 3.34% a year earlier. The bad-loan ratio in the bank's home market, which rose by almost 1 percentage point to 4.57%, will probably peak in the third quarter and won't exceed 5%, Saenz told reporters in Madrid.
The bank had 3.1 billion Euros of net loans newly classed as in default in the quarter, compared with 3.4 billion Euros a year ago. Costs for covering impairments dropped 10% to 2.2 billion Euros.
Revenue from Spain "reversed their trend" to grow 7% from the preceding quarter, the bank said. Lending in the country declined 5% from a year earlier.
Santander's profit from Spain fell 32% to 593 million Euros from a year earlier. Net interest income dropped 18% to 1.34 billion Euros.
"We are putting out our photo of Spain at its worst and ugliest moment," Saenz said. "Spain is a country that must de-leverage -- we may not like it but it is necessary."
Earnings from the UK, a business led by Botin's eldest daughter Ana Patricia, 50, rose 2% to 491 million Euros, the bank reported.