Falklands oil company spuds new well and has four more lined up
Tuesday, May 3rd 2011 - 23:04 UTC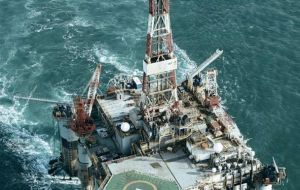 Rockhopper Exploration has spudded the next appraisal well on the Sea Lion oil discovery in the Falkland Islands' waters. Drilling began on the 14/10-5 appraisal well on May first 2011.
The company also announced it intends to utilize four well slots in succession on the exploration oil rig Ocean Guardian, which was originally contracted by Desire Petroleum and has been operating in Falklands' waters since March last year for the two companies and also for Falkland Oil and Gas Ltd.
According to a company release the well is located just north of the original Sea Lion 14/10-2 discovery well, and it is 13 metres up-dip at top reservoir level. It is designed to appraise the Sea Lion main fan reservoir and to investigate the hydrocarbon column and reservoir distribution.
Rockhopper expects drilling operations to take 38 days and it has mobilised specialist flow test equipment to flow-test the well. The company hopes that this test will give it a greater understanding of the discovery.
In March, the second Sea Lion appraisal well helped boost confidence in the discovery's commerciality, after it found a significant column of oil. Later in early April a technical report, based on the findings to date, effectively showed that the Sea Lion could be deemed a commercial discovery.
Rockhopper's low case estimate stands at 156 million barrels of recoverable oil, up from the 66 million barrels estimated in last year's competent persons report (CPR).
Finally the AIM quoted company announced it has entered into a further assignment agreement to secure an additional well slot on the Ocean Guardian drilling rig. Rockhopper now intends to utilize four well slots in succession.