US printing press is flooding the world with dollars, claims Mantega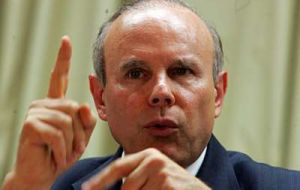 Testifying before Congress Brazilian Finance Minister Guido Mantega said that international commodity prices are behind much of the country's rising inflation, but insisted the government will take action to keep prices in check and prevent the currency from strengthening too far too fast.
Addressing the Senate Economic Affairs Committee, Mantega said that excluding food and gas, consumer prices in Brazil only rose 4.76% over the last 12 months, just slightly above the 4.5% target. Including food and gas, IPCA consumer prices have risen 6.44% in the 12 months ending April 12, the latest official numbers available.
Mantega blamed U.S. monetary policy and international speculators for much of the commodity price surge, as well as for an inflow of short-term capital that he said is driving up the Real and, by stimulating credit growth, causing inflation.
"The printing press is turning non-stop and flooding the world with dollars," he told senators. "We must avoid an overvalued real and Dutch disease ... we cannot permit speculative capital to cause bubbles."
On the currency, he said the government actions, including the IOF tax, limits on banks' and companies' currency hedges, and Central Bank interventions, have been successful.
"If we had not acted, the dollar would now be below 1.40 to the Real, he said.
Mantega said the Real appreciation is less extreme if viewed not just compared to the US dollar, but to a broad currency basket from its main trading partners, which shows it has appreciated 35% since 1994, a level he called "not excessive."
"I guarantee inflation will not get out of control," he said. Still, he acknowledged that commodity inflation could spread through the economy, especially via the services sector, since "our economy is growing faster than most."
To prevent that, the government "is using every available weapon."
The list of weapons included measures to stimulate agriculture production, cuts in government spending, increased bank reserve requirements and other macro-prudential measures, increases in the Selic overnight rate, and the recently instituted 6% IOF tax on foreign loans with maturities of 720 days or less.
The finance minister said budget cuts would permit the government to achieve its primary surplus target of 3% "with relative ease" this year, and keep the debt-to-GDP ratio falling.
Mantega predicted GDP growth would "moderate" from last year's 7.5% and reaffirmed his forecast of 4.5% in 2011, 5.0% in 2012, and 5.5% 2013 and 2014. The forecast is more optimistic than market consensus, which is 4% this year and 4.25% in 2012.
Finally Mantega admitted Brazil had problems: a tight labor market, too strong consumer demand, and excessive capital, but these were "good problems" especially compared with those facing Europe and the US.