Argentina's economic performance 'below' South America's average
Wednesday, May 4th 2011 - 23:12 UTC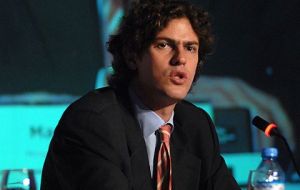 The Argentine 'development model' had had its successes but it belongs to the average group of most South American countries that benefited by the explosive advance of commodity prices and since 2007 has fallen to the bottom half of performers in the region according to former Economy minister Martin Lousteau.
"Between 2003 and 2011 Argentina's GDP has expanded at an annual average of 6.5% which is double the historic trend and is one of the most successful in the last century only below the 1903/1911 period (7.6%) and 1918/1926 (6.9%). However a critical element to understand the situation is not forgetting the still fresh recession which extended from 1998 to 2002", points out Lousteau.
This undoubtedly helps to explain the strong public opinion support for the Kirechners, says the former official who suggests looking in depth to statistics of the time span from the current 'accumulation model with a diversified matrix, competitive exchange rate and social inclusion', as President Cristina Fernandez de Kirchner likes to describe it.
From 2003 to 2010 South America expanded at an annual average of 4.7% with Peru leading (6.6%) ahead of Argentina (6.4%) while the less dynamic have been Brazil and Chile with 'only 4%'. This means that until 2006, Argentina doubled the average rate of the region mainly because the country was recovering from a 20% GDP loss. But from 2007 to 2010 the evolution of Argentina has been similar or below its peers and only above Venezuela, Chile and Ecuador.
But similarities do not end here. Argentine exports have increased but below the region's average (166% vs 224%) and neighbouring Chile with half the population has become the second exporter of South America. Foreign exchange reserves jumped 398%, below the average for South America, 437%, and unemployment, 7.8%, is just above the average for the region, 7.4% and so is poverty 23.6% against 21.8%.
This good economic performance can be explained because until 2003 commodities and the region's main exports after remaining relatively stable for several decades took off and have accumulated on average 150% increase, enabling countries to march on the path of sustained growth.
However Lousteau points out that a clear difference has been fiscal policies in the context of bonanza. While Argentine government expenditure between 2003 and 2006 as percentage of GDP expanded at the same rate as its neighbours, since 2007 it has trebled and a clear result of this pro-cyclical fiscal policy can be seen in prices: Argentina has been suffering double digit inflation for the last seven years and in 2010 was five times the average of the region, excluding from the ranking Venezuela, which leads the world in bloating prices.
Summing up Lousteau says that some advances have been achieved such as the 'universal child allowance', but double digit inflation is incompatible with 'social inclusion'. The same way that retaining a 'competitive exchange rate' is incoherent since it creates false competitiveness and appeals to 'primitive instruments' to contain imports. Furthermore investment suffers and it is hard to see how an 'accumulation process' can be sustained in these circumstances, the same as 'production diversification'.
"World circumstances and Argentina's advantages play on our favour and avoid urgencies" but time is running out for the implementation or a real transparent productive model, concludes the economist.