Argentine group buys 10% of YPF, now holds 25.46% of the company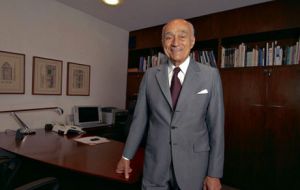 Argentina's Eskenazi family has agreed to pay 1.3 billion US dollars to buy an additional 10% in YPF, the Argentine unit of Repsol, the Spanish oil company said on Wednesday.

Eskenazi-controlled Grupo Petersen has exercised an option set to expire next year, which was laid out in a contract between the companies signed in 2008 that saw Repsol acquire 14.9% of YPF.

After Wednesday's agreement, Grupo Petersen will own a combined 25.46% stake in YPF. Repsol's stake will be 58.23%, according to a Repsol statement.

The sale is part of Repsol's plan to rebalance its global assets' portfolio, the company said. It hopes to ultimately lower its stake in YPF to just over 50%.

The company said it plans to continue incorporating international and Argentine minority investors in YPF, the company said

Buenos Aires-based YPF, Argentina's largest private employer, produces and processes about 50% of the country's oil and about the same amount of the domestic fuel market.

Repsol also sold a 15.77% stake in YPF in the past six months through private placements and share offerings. YPF accounted for about 35 percent of Repsol's revenue and more than 60 percent of its oil production until last year.

Earlier this year Repsol sold 3.83% YPF stake to Lazard Assets Management and three other investors. At the end of last year Eton Park and Capital funds acquired another 3.3%.

Repsol is increasingly focusing on its Brazilian unit, where the company operates the offshore Guara and Carioca fields, located near Rio de Janeiro-based Petrobras Tupi field, one of the largest discoveries in the Western Hemisphere since Mexico's Cantarell in 1976. Last year, Repsol sold a 40% stake in the Brazilian unit to China Petroleum & Chemical Corp. for 7.1 billion USD.

Repsol bought YPF in 1999 and crude output declined every year since then except in 2003. In December, Sebastian Eskenazi announced a 100% annual reserve-replacement ratio for the first time in 13 years.