Commodity prices fall for the fourth day running; oil below 100 USD per barrel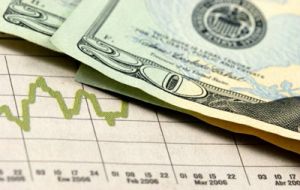 Commodity prices fell on Thursday for a fourth day, following weak economic news from Europe and the US. Oil prices were down 10% at one stage, with US light, sweet crude ending the day below 100 US dollars a barrel.
US weekly jobless claims hit an eight-month high last week, while German industrial orders fell unexpectedly.
There are also concerns about what will happen to the US economy when the latest round of quantitative easing, known as QE2, ends.
"Crude oil is selling off sharply for two primary reasons: QE2 is coming to an end in June and without a QE3 behind it, it will take liquidity out of the market, hurting risky asset classes such as commodities," said Chris Jarvis at Caprock Risk Management in New Hampshire.
"With Osama Bin Laden dead, the market is adjusting the geopolitical risk premium down accordingly."
Precious metals have also been hit, with silver falling another 6% and heading towards its biggest weekly fall since 1983. The price of silver has fallen by more than 20% from its record high near 50 USD an ounce last Thursday.
Some of the sell-off is due to an unprecedented increase of trading costs by CME Group, which oversees much speculative trading in silver.
The speculative sell-off in silver set off other commodities, according to Luis Rangel, vice-president for commodity derivatives at ICAP North America.
"It was sort of the ring leader and it's started to spread like a contagion," he said.
Sugar and cocoa were also among the fallers.
Oil-related shares also fell, with oil companies leading the fallers in New York. Exxon Mobil and Chevron were down by 2.6% and 1.8% respectively. (BBC).-