Falklands' oil companies contract more sophisticated exploration rig
Friday, May 6th 2011 - 07:20 UTC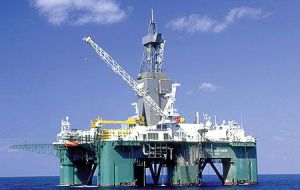 Borders and Southern Petroleum PLC licensed for oil exploration in the Falkland Islands announced Friday the signing of a new rig contract with Ocean Rig under which the Eirik Raude has been replaced by the Leiv Eiriksson.
Falklands Oil and Gas Ltd took note of the substitution agreement and announced that the new rig conditions equally apply, based on the previous agreement with B&S which was made public last April 19.
"The heads of agreement between FOGL and Borders & Southern which were announced on 19 April 2011, apply equally to this rig and FOGL expects to complete the necessary amendments to the underlying documentation and formally sign the Assignment Agreement to the rig contract shortly", said FOGL is a brief statement.
"We believe the Leiv Eiriksson offers improved technical capabilities, adds more certainty to our drilling timetable and also flexibility, given its potential availability, after the firm drilling program has been completed", said Tim Bushell, Chief Executive of FOGL.
According to the original plans the rig is to be mobilized to the Falklands in October 2011.
Borders & Southern has licences in the Falklands' south basin, while FOGL to the south and south east of the Islands.