Argentina's 'Blond Death Angel' faces life imprisonment for kidnapping and torture
Monday, May 9th 2011 - 05:48 UTC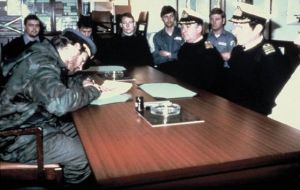 A government lawyer called Friday for a life sentence for former Argentine naval officer Alfredo Astiz for crimes including the murder of two French nuns during the 1976-1983 dictatorship.
"I consider him to be jointly responsible for the crimes of kidnapping in 12 cases, jointly responsible for the crime of aggravated torture and aggravated murder in five cases," said Martin Rico, a lawyer for the Human Rights Ministry, in the trial for crimes committed at the notorious Naval Mechanics School (ESMA).
The 59-year-old Astiz, nicknamed the Blond Angel of Death and the Crow, has already been tried and sentenced to life in absentia by a French court for the murder of Alice Domon and Leonie Duquet, who disappeared in December 1977.
Ten human rights activists, mothers of disappeared were also abducted at the time and were never found.
The court still is to hear recommendations from the attorney general, which has also intervened in the case. Astiz sits in court dressed informally and protected by bullet-proof glass box.
Astiz was also involved in the Falklands' conflict as head of the South Georgia garrison, the first to surrender to the British Task Force in 1982. He later spent time jailed in Britain but was later released and returned to Argentina in spite of the extradition request from the French government.
Official figures say 9,000 people were kidnapped, tortured and killed in what became known as Argentina's "Dirty War," but many believe the real number to be closer to 30,000.