Chilean industrial production booming; unemployment steady at 7.3%
Monday, May 9th 2011 - 06:46 UTC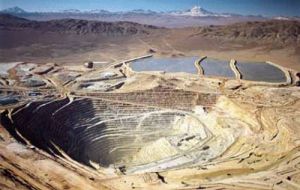 Industrial production in Chile increased at the fastest ever pace in the 12-month period ended March, data released by the National Institute of Statistics revealed. Industrial output climbed a record 30.9% in the year ended March, marking the biggest growth in the history of the indicator. In February, output rose 1.9%.
Economists had expected 23% growth for March. The jump in industrial output was partly due to a low basis of comparison. Levels of industrial activity have also increased due to rising demand at home and abroad, the agency said.
On a seasonally adjusted basis, production increased 2.4% from the previous month. In the first quarter of 2011, industrial output increased 11.7% over the corresponding quarter last year.
Production in the mining sector grew 1.9% annually in March, following a 3.9% slump in the previous month. The monthly increase was 20.3%.
Industrial turnover increased 19.7% in the 12 months to March. Economists had forecast 12% growth.
Retail sales grew 16.4% in 12 months to March, after rising 16.8% in the previous month. On a monthly basis, sales increased 13.6%, after declining 5% in February. It was the first monthly increase in three months.
Meanwhile for the third consecutive quarter unemployment in Chile held steady at 7.3%, said INE. Unemployment in January-March was 7.3%, unchanged from the December 2010-February 2011 period. It was also 7.3% in November 2010-January 2011. In January-March 2010, unemployment was 9.0%.
The labor force inched up to 8.0 million in January-March, from 7.99 million in the December to February period, INE said.