China's trade surplus soars in April with imports less dynamic than exports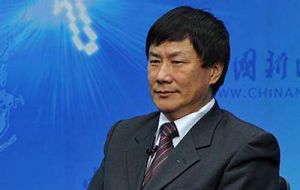 China's trade surplus in April was nearly four times bigger than expected, with exports far exceeding imports. The trade surplus was 11.4 billion US dollars, according to the customs agency, whereas analysts had expected a figure of about 3 billion USD.
The news comes during US-China talks on trade relations and will put the issue of the Chinese currency in the spotlight. Many in the US, especially exporters, argue that China's currency is undervalued, making Chinese goods highly competitive in world markets.
The General Administration of Customs (GAC) said China reported a small trade surplus of 140 million dollars in March, on the basis of a deficit of 7.3 billion USD in February -- the country's first since March 2010.
The GAC said the total value of imports and exports increased 25.9% year on year to 299.95 billion dollars in April, with exports up 29.9% to a record high of 155.69 billion USD and imports up 21.8% to 144.26 billion USD.
"The slower growth in imports and fast increase in exports resulted in the rebound," said Zhang Yansheng, director of the National Development and Reform Commission's Research Institute of Foreign Economic Relations.
Exports of mechanical and electrical equipment rose 22.9% to 319.76 billion USD during the first four months, accounting for 57.6% of the country's total exports.
"The improving infrastructure, supportive services and higher efficiency of the service industry constitute China's new competitive edge in exports," said Long Guoqiang, deputy director of the Research Department of Foreign Economic Relations of the Development Research Centre of the State Council.
The GAC said trade with the European Union, China's largest trade partner, jumped 23.5% year on year to 170 billion USD in April. Trade with the US climbed 24.8% to 133.71 billion USD during the period while that with Japan rose 22.9% to 108.86bn.
Zhang attributed the slower growth in imports to rising commodity prices which dampened importers' confidence in building up inventories. The country's imports of iron ores dropped 15% to 52.88 million tons in April from March.
China saw a trade deficit of 1.02 billion US dollars from January to March this year, the first quarterly trade deficit in six years. The GAC has attributed the deficit to soaring commodity prices and seasonal factors.
Still China faces uncertainties in foreign trade, including the sovereign-debt crisis in the EU, bloated US budget deficit and recovery pressures caused by the Japan tsunami, said analysts.
Zhang said the trend of balancing China's foreign trade would not change, adding that the proportion of trade surplus in the country's GDP will gradually decrease.