Measles vaccination campaign in Chile following several confirmed cases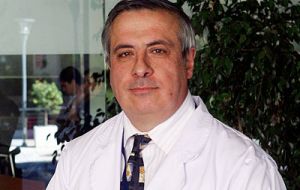 Undersecretary of Health Jorge Díaz confirmed Saturday that there are seven contagious cases of measles in Chile, but emphasized that "it's not an epidemic or anything of the sort."
"There have only been seven cases on the year," Díaz told La Tercera. "Right now we don't have an uncontrolled outbreak in the streets or within the general population."
Still, a vaccination campaign will be launched by the Ministry of Health starting within four months.
Measles is an infection of the respiratory system caused by a virus. The symptoms include high fever, coughing, and conjunctivitis. Several days after those initial symptoms appear, a red rash breaks out over most of the body, which can last as long as eight days.
Chilean Health Minister Jaime Mañalich announced Sunday that the Advisory Committee on Vaccine and Immunization Strategies will convene on Tuesday to decide exactly how to go about the vaccination process.
Díaz said that pregnant or breast-feeding mothers would be a priority focus of the campaign.
"Generally speaking, measles in this day and age is a relatively benign disease," Mañalich told La Tercera. "But we're worried about breast-feeding infants under the age of one year, because at that age measles can be very dangerous."
The World Health Organization also released a statement recommending caution for people travelling in Chile.
Mañalich said all travellers between the ages of 25 and 40 leaving the country will be given a free additional dose of the vaccine so they don't contract or spread the disease abroad.
By Zach Simon – The Santiago Times