Microsoft buys Skype for 8.5bn USD; targets Google leading position in advertising
Tuesday, May 10th 2011 - 21:11 UTC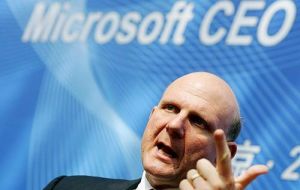 Microsoft Corporation agreed to buy Skype Technologies SA for 8.5 billion US dollars in cash to gain the world's most popular Internet calling service and its 663 million customers.
Microsoft will acquire Luxembourg-based Skype from an investor group led by Silver Lake, the companies said in a statement this week. The agreement was approved by the boards of directors of both companies.
The takeover may help Microsoft Chief Executive Officer Steve Ballmer attract Web users and narrow Gooble Inc's lead in internet advertising. The acquisition is Redmond, Washington- based Microsoft's largest, surpassing the purchase of AQuantive Inc. for about 6 billion USD in 2007.
"This could give Microsoft a much-needed kick-start" in telecommunications, said Paolo Pescatore, an analyst at CCS Insight in London. In voice services, "Skype has certainly set the benchmark and gained a lot of traction."
A purchase by Microsoft would divert Skype from a plan, announced in August, to sell 100 million USD of shares in an initial public offering. The company has struggled to convert users of its free PC-to-PC phone services into paying customers, according to a March regulatory filing.
Ballmer is aiming to revive Microsoft's online services division, which had an operating loss of more than 700 million USD in the three months that ended in March. The company lags behind Google in Web search and related advertising.
Microsoft abandoned an unsolicited effort to buy Yahoo! Inc. for as much as 47.5 billion USD in 2008 and instead struck an agreement to provide search services on Yahoo's pages.
Microsoft offers voice chat services to consumers through its Windows Live Messenger software, and to corporate customers through its Lync collaboration platform.
Tightly-integrated Skype services could be an added selling point for Windows Phone 7, the mobile operating system Microsoft is promoting as a competitor to Google's Android and Apple's iOS, CCS's Pescatore said.
Skype was founded in 2003 by Niklas Zennstrom and Janus Friis and its investors include EBay Inc, private equity firm Silver Lake and venture capital firm Andreessen Horowitz. Zennstrom and Friis sold the company for 2.6 billion USD in 2005 to, California-based EBay, which in turn sold off most of its stake four years later.
Skype, which started as a way for consumers to chat for free online, is developing premium services such as group video calling and pursuing corporate accounts. Skype's competitors include the fledgling Google Voice service and video chat client Fring.