China's inflation eases in April but food costs are scaring the Communist party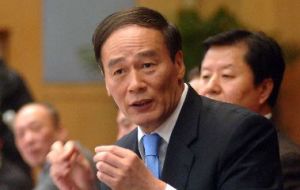 China's surging inflation eased slightly in April as Beijing tightened controls to cool its overheated economy. Consumer prices climbed 5.3% over a year earlier, driven by an 11.5% jump in food costs, data showed Wednesday.
That was down from March's 32-month high of 5.4% but exceeded forecasts by private sector analysts who expected a bigger decline. It is also higher than the government's 4% full year target.
Inflation is "the most pressing problem" facing China, Vice Premier Wang Qishan said in Washington. He anticipated policy will remain "prudent" and focus on removing "inflationary monetary elements".
Rising inflation in recent months has frustrated Chinese leaders who have tried to reassure the public by declaring taming prices their priority. Beijing has hiked interest rates four times since October and ordered companies to hold down price increases.
The government also has said it will allow a faster rise in China's tightly controlled currency, which can help to cool prices by making imports cheaper. But analysts say any rise is likely to be too small to satisfy Washington and other critics who say China's currency controls keep its Yuan undervalued and are swelling its trade surplus.
Analysts blame the inflation on the dual pressures of rising consumer demand that is outstripping food supplies and a bank lending boom that was part of Beijing's response to the 2008 global crisis. Authorities are trying to raise food production and have clamped down on credit but it is expected to be months before those measures show results.
Nevertheless prices of farm goods eased in April and China's main index of manufacturing activity declined, suggesting government efforts to cool an economy that grew by a rapid 9.7% in the first quarter could be starting to have effect.
Inflation is politically dangerous for the Communist Party because it erodes economic gains that underpin the party's claim to power.
The sharp rises in food costs are especially sensitive in a society where poor families spend up to half their incomes on food. The government is paying food subsidies to the poorest households and has told local leaders to assure adequate vegetable supplies in markets.
Last week, in an apparent warning to companies to hold down prices, the government fined consumer goods maker Unilever 2 million Yuan (308,000 USD) after its executives talked to Chinese media about planned price hikes for soap and other goods. The government complained that disrupted "market order" and efforts to cool expectations of further price rises.
In an encouraging sign for Chinese officials, gains in producer prices eased in April for the first time in four months, increasing 6.8% from a year earlier, compared with 7.3% in March. Commodities had their biggest weekly decline since December 2008 last week, trimming China's import bill.