Controversial questions on Ecuadorian referendum falling short of approval
Thursday, May 12th 2011 - 06:52 UTC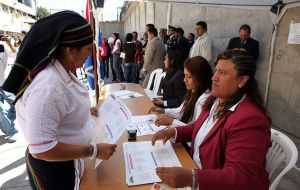 The latest official data from Ecuador's referendum vote shows a slim margin in favor of the 'No' vote on two of the most controversial questions which relate to the judicial system and the media. Critics say the questions seek to curb press freedom and judicial independence.
Overall however, the 'Yes' votes are ahead for the referendum a sign of victory for Ecuadorian president Rafael Correa who proposed the 10-question referendum and personally backed a 'Yes' vote.
Ecuador's Electoral Council, or CNE, said on its website that with about 50% of ballots counted, a range of between 43.14% and 48.43% backed Correa's proposals, while between 41.53% and 44.64% were against them.
Asked about an overhaul of the country's judicial system via a temporary judicial council, 44.64% of Ecuadorians have said 'No' and 43.18% 'Yes.'
For the question proposing to create a special council to regulate the contents of media, 44.01% voted 'No' and 43.14% voted 'Yes', according the figures released by the CNE.
The results for another controversial question on whether to restrict cockfighting and bullfighting will depend on each local jurisdiction votes.
Supporters from both sides have called for a close monitoring of the remaining vote counting process.
Five of the 10 referendum questions proposed by Correa aim to amend articles of the Constitution and the other five will require new laws. According Ecuadorian law, in order to be approved, the referendum needs half plus one of all valid votes for each question to pass.
In spite of opposition claims of fraud and ballot box stuffing, observers from de Organization of American States said on Monday that "there is no evidence of fraud," but admitted said there were major weaknesses in the training of members who ran the voting tables.