Falklands' pilgrimage of HMS Fearless veterans to honor fallen comrades
Thursday, May 12th 2011 - 15:56 UTC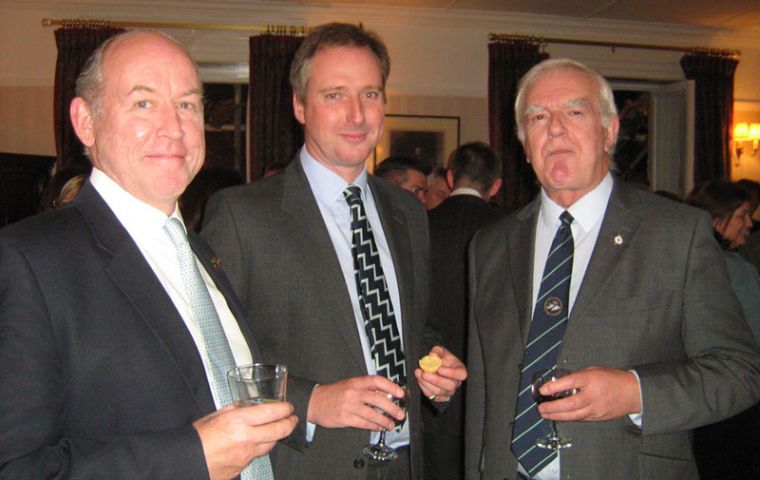 Ten veterans of HMS Fearless, deployed as part of Operation Corporate during the 1982 Falklands conflict, were reunited on a pilgrimage to the Falklands this week.
Commander British Forces Falkland Islands Commodore Philip Thicknesse, also an HMS Fearless Falklands veteran, along with the group, attended a rededication of a memorial at Bertha's Beach to sailors and Royal Marines who lost their lives when their landing craft was sunk on June 8, 1982.
Among the pilgrims was former HMS Fearless Lieutenant Ian Craik tasked with commanding captured Argentine Motor Vessel Yehuin.
Speaking to Mercopress Ian told the story of how on arriving in Port William outside of Stanley Harbour after the Argentine Surrender he was summoned to the bridge of HMS Fearless and instructed to "select a crew" and take command of Yehuin.
"I was scared shitless," said Ian candidly, "I went from being a little piece in a big wheel to being in command of my own ship."
Officially the ship was known as 'Falkland Sound' said Ian "…but it was painted black so soon became affectionately known as 'The Black Pig'."
Initially the vessel was used to transport Argentine prisoners to British ferries that in turn carried the prisoners to Montevideo in Uruguay and ultimately Argentina.
However, one of Ian's early tasks was to sail his ship to bombed and still burning RFA Sir Galahad, in order to deliver a fire fighting crew to the vessel to fight the fire and then move her out to sea to be torpedoed and sunk.
Ian said, "My 2nd Officer Lt. David Clarke was a 'schoolie' and not very good at navigation, his only claim to fame was that he once played backing guitar for the Beach Boys… so I asked for Sub Lieutenant Philip Thicknesse to navigate me to Fitzroy."
The task itself was a moving one explained Ian. At first the fire had to be suppressed and then the ship searched to check that no men remained deep inside the ship.
Afterwards members of the Welsh Guards held a Church Service on nearby sister ship RFA Sir Geraint.
Ian said, "The Welsh Guards sang the entire time Sir Galahad was towed out of sight by Typhoon – it must have taken around 40 minutes and their voices echoed over the waters.
"After that we went to Stanley and did whatever jobs had to be done; we were just a bunch of pirates really – we had responsibilities but had a lot of fun at the same time."
During their time in the Falklands the veterans delivered a presentation about their experiences during the war, as well as attending a reception at Government House, and visited 1982 battlefield sites and the British cemetery at Blue Beach.
HMS Fearless was a key component of the campaign, and played a vital part in the recapture of the Falkland Islands. The Royal Navy finally decommissioned HMS Fearless in 2002.
By Lisa Watson -SeAledPR - Stanley