International tourists visiting Rio do Janeiro increased 8% to 1.49 million in 2010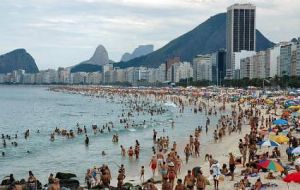 The number of international tourists visiting Rio de Janeiro increased by 8% in 2010 compared with the previous year, according to a study conducted by Embratur, the Brazilian Tourism Board.
The city received 1.61 million foreign visitors last year, compared with 1.49 million in 2009, an increase of 120,000 people and the highest level of international tourists in the last five years. Revenues generated by tourism in the city came to over 1.9 billion US dollars.
RioTur (the Rio de Janeiro City Tourism Company), believes that the total will be even higher this year, since Rio received 131% more international tourists than expected for its Carnival in March.
Tourism Secretary and President of RioTur, Antonio Pedro Figueira de Mello said, "We expect a further 300,000 tourists for the Rock in Rio festival alone. We're hosting a growing number of large-scale events which are attracting even more tourists. And Rio's profile abroad is constantly growing."
In related news British Airways is increasing its services to Brazil by doubling its weekly frequency to Rio de Janeiro from three to six flights. Flights to Rio de Janeiro will now depart Heathrow for Rio every day, except Mondays.
The flight will continue to be served by a three class B777, enabling customers to choose from World Traveller (economy), World Traveller Plus (premier economy) and the airline's fully flat beds in Club World (business class).
"We are experiencing a real increase in demand for Rio and by doubling the number of frequencies; we are able to offer our customers more choice and greater availability. Brazil is also experiencing strong economic growth and this capacity increase is a great opportunity for British Airways to be part of that growth" said Neil Cottrell, BA head of network planning.
British Airways commitment to Latin America has been further strengthened by the introduction of direct flights to Buenos Aires in March. The daily flight now operates direct to Argentina's capital instead of stopping off in Sao Paolo.