Mercosur largest economies 'inconveniences' delaying trade accord with EU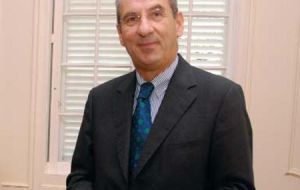 The existence of 'inconveniences' with Mercosur largest economies is delaying reaching a trade agreement with the European Union, according to Germany's Ambassador before the government of Paraguay, Claude Robert Ellner.
The ambassador made the statement following a meeting Wednesday with Paraguayan Foreign Affairs minister Jorge Lara Castro to iron out final details of President Fernando Lugo visit to Germany May 18.
"With President Lugo in Europe we expect to review the current state of EU/Mercosur trade negotiations and possible advances", said Ambassador Ellner. Paraguay currently holds the Mercosur chair.
Ellner insisted there is the political will in Brussels to reach a trade deal with Mercosur in spite of some resistances from sectors of both blocks.
"Yes, there are problems to be solved, particularly in the economic field. But there is a strong determination to advance and I'm convinced that an overall trade and cooperation can only be good for both sides", said Ellner.
He added that "it's in the larger Mercosur economies where the main difficulties exist, let us say we are finding out this in the trade negotiation; that is from our point of view, for the moment".
When asked to further explain the significance of his words, Ambassador Ellner pointed out "we are talking about free trade, free circulation of goods and services and this is coming from the Southern Cone economies"
"We are talking about very detailed problems that need to be discussed with bosses and unions. It's a quite a long process, and no miracles can be expected, but we are hopeful that negotiations can effectively conclude successfully later this year", revealed the German ambassador.
Finally ambassador Ellner described business opportunities in Paraguay as excellent, "geography, Mercosur full member, young population and abundant energy at accessible prices. However what must be improved is judicial security in the country"
"Judicial security and an transparent judiciary branch are essential for any investor interested in coming to Paraguay", he emphasized.