Argentina/Brazil agree on a 'constructive dialogue' to overcome trade disputes
Saturday, May 14th 2011 - 04:50 UTC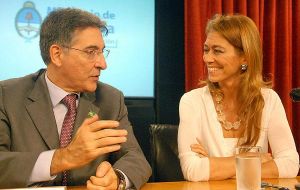 Following a long day of open letters and press exchanges Argentina and Brazil finally agreed on the ground rules for the initiation of a 'constructive dialogue' to soften the trade dispute which erupted when Brazil imposed non automatic licences on imported cars, including from Mercosur' main partner Argentina.
According to Buenos Aires press reports late Friday Argentine Industry minister Debora Giorgi held a twenty minutes phone conversation with her Brazilian counterpart Fernando Pimentel and both agreed on the need for dialogue.
However Ms Giorgi demanded as a condition for the conversation that Brazil lift the obstacles on Argentine auto exports and proposed that the first 'direct dialogue' meeting should be held in the border city of Foz de Iguazú and not Brasilia, as was the original suggestion from Pimentel who promised a reply in the next 48 hours.
Early Friday Minister Giorgi made public a letter addressed to her counterpart Pimentel with a formal complaint on the Brazilian measure which she described as "surprising" and expressed doubts that Brazil was really interested in achieving a balanced industrial development, as had been agreed in previous Mercosur meetings.
The letter recognized the history between Brazil and Argentina with regard to imports listing 10 different areas where she said bilateral trade currently faces "problems" from olive oil to products such as medicine, citric products, wine and powdered milk, amongst others.
Giorgi made it clear that the new car import measures threaten the importing of Brazilian products into Argentina, and assured that it was Argentine products which suffer "a variety of problems" in gaining access to the Brazilian market.
"Not only are there no negative impacts on Brazilian exports, but also these measures demonstrate the reflection of a structural problem which we should resolve quickly," sustained Giorgi in the text.
Giorgi also stated that "only a bilateral relationship that generates a balanced industrial dynamic will be able to be sustained. With regard to that, Argentina has not received the results it hoped for."
Nevertheless Giorgi said she would prefer to talk in person with Pimentel and accused him of acting in an "inconvenient" way, without any previous consultation.
Ms Giorgi's stance was in reply to a previous letter from Pimentel trying to soften the trade conflict with Argentina which called for the initiation of a "constructive dialogue" in order to resume the bilateral trade negotiations.
"I understand the need of a constructive dialogue based in what we have agreed during our last encounter in Buenos Aires," Pimentel's letter stated.
Brazil decided May 10 to lift the on imported cars which include Argentine cars as a measure geared to contain a massive inflow of imports mainly from Asia, but was also seen as an opportunity to hit back on Argentina's similar tactics.
The measure affects imports from several other countries including the United States, Japan, South Korea and Mexico. Brazilian officials told reporters the measure was also meant as retaliation against Argentina for recent delays in imports of Brazilian farm equipment and other goods.
"They've been using this same tactic against us for months," the official said. "The intention is to get their attention ... so we can get trade back to normal."
Trade skirmishes between the two biggest members of Mercosur commercial bloc have been frequent over the years, and Brazil's new regulations seemed to part of that ongoing conflict rather than a sign of a major new outbreak of protectionism.