CFK calls on unions to cool down and ratifies she's 'not dying to be president again'
Wednesday, May 18th 2011 - 07:08 UTC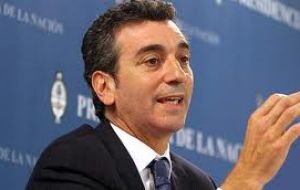 Argentine Minister of Interior ratified late Tuesday that President Cristina Fernandez de Kirchner threat that she would not bid for re-election next October if organized labour continues to pressure on her government. However CFK is not annoyed with Hugo Moyano chief of the powerful Labour Confederation, CGT.
"President Cristina Fernandez is not dying to be president again, and much less conditioned by corporations", said Minister Randazzo, as part of the daily exchange between Mrs Kirchner and Moyano.
The organized labour leader is demanding a percentage of places for unionists in the ballot lists including the Vice-president post in the incumbent presidential ticket for the October election when the Executive and over half of congress will be renewed.
But in spite of the growing tension between the Argentine government and organized labour, Randazzo discarded that Mrs Kirchner was annoyed with the chief of the Labour Confederation.
"She's not mad with Moyano but rather with a modality implemented by some sectors that have benefited generously from this government", said Randazzo adding that the president "has an unbelievable support all over Argentina".
Last week Cristina Fernandez accused organized labour of acting in a "corporate" and "extortive" manner appealing to repeated work stoppages, pickets and blockades.
"When a union only cares about what matters to its affiliates and is against the rest of the community, it's no longer a union, it becomes a corporate organization" said the Argentine president during a political rally.
Randazzo said that in democracy "there are conflicts" and called for claims of better salaries and work conditions to be channelled in a framework of "rationality and responsibility".
Finally the minister said that when organized labour pushes for places in ballot lists for October elections, it is "fair and part of the democratic game". But there are limits to those pressures, which mean avoiding repeated stoppages and distortions to the normal activities of the rest of the community.