The Queen in historic reconciliation visit honours Ireland's freedom fighters
Wednesday, May 18th 2011 - 06:45 UTC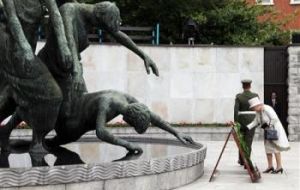 Queen Elizabeth honoured Irish people killed fighting for independence from Britain in a powerful gesture of reconciliation few people would have believed possible even in recent times.
On Tuesday the Queen laid a wreath at Dublin's Garden of Remembrance, Ireland's monument to its fallen heroes, before a hushed crowd of dignitaries, soldiers and her husband, the Duke of Edinburgh, whose uncle, Lord Mountbatten was killed by militant Irish nationalists in 1979.
The visit, the first by a British monarch since Ireland won independence from London in 1921, is designed to show how warm neighbourly relations have replaced centuries of animosity but security was tight after a homemade bomb was found.
Streets around each royal stop were cleared of onlookers giving Dublin an eerily deserted feel and underlining that this was a state visit like no other.
In Trinity College, Ireland's oldest university founded with a charter from Queen Elizabeth I, a raffle determined which students and staff got close to the monarch.
Huge crowds were unlikely even if the Queen had been doing public walkabouts. While most Irish people welcome the monarch's visit they remain proud republicans and would feel uncomfortable waving the British flag, or Union Jack.
Though the monarch's visit is about reconciliation there are constant reminders of the violent past. Her arrival coincided with the 37th anniversary of bombings in Dublin and Monaghan, the single bloodiest day in the three-decade long Northern Ireland conflict.
Over 200 people gathered at the site of one of the bombings in Dublin to lay flowers and remember the 33 people killed. Many Irish people have a gossipy interest in the British royal family as proven by the empty streets during the televised April 29 wedding of Prince William to Catherine Middleton.
King George V was the last monarch to visit Ireland in 1911, when what is now the Republic was then part of the UK.
UK Prime Minister Cameron will join the Queen and Duke of Edinburgh for part of their trip on Wednesday, while Foreign Secretary William Hague is following the usual practice of accompanying the royals throughout their visit.
The Queen will attend events this week at the National War Memorial Gardens in Islandbridge and Croke Park stadium. Croke Park is the home of Gaelic games where in 1920, during the Irish War of Independence, British forces fired into the crowd at a football match, killing 14 spectators and players.
The Queen is also to make a speech at a state dinner at Dublin Castle. There are also plans for the Queen and Prince Philip to visit the Irish National Stud in County Kildare, as well as the Rock of Cashel in County Tipperary and a technology park in Cork.
The cost of the security operation for the reconciliation visit has been estimated at 30 million Euros with measures including: deployment of more than 6,000 Irish police and Defence Forces personnel onto the streets of Dublin; increased surveillance of known republican dissidents; a ring of steel, comprising 25 miles of crowd-control barriers, installed around the Irish capital and checking thousands of manhole covers and lamp-posts, and parking bans imposed on 30 city centre streets.