Spanish opposition anticipates "changes" in dealings with Gibraltar
Thursday, May 19th 2011 - 17:23 UTC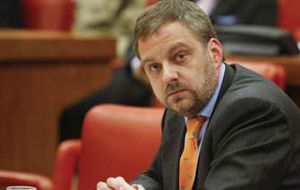 The Foreign Affairs spokesman for Spain's conservative Popular Party, Gustavo de Arístegui, said that his party would continue to seek dialogue with Gibraltar if it wins national elections in Spain next year. But he also warned that "there will be changes" in Spain's dealings with Gibraltar.
De Arístegui made the statement during a press conference in Algeciras, where he was lending support to PP MP Jose Ignacio Landaluce, who is standing for election this coming Sunday as mayor of that town.
"PP supports dialogue with Gibraltar and does not want Gibraltarians to regard Spain as a brake on its aspirations", said de Aristegui.
However, according to the Gibraltar press the hint of moderation in this message Arístegui's words were laced with the hard line position on Gibraltar that he has voiced many times in the past.
Aristegui said the ruling PSOE Spanish government had made "many mistakes" in its dealings with Gibraltar and that the trilateral forum had proved "bad for Spain".
"Gibraltar has no right to self determination," he told reporters.
In parallel to Arístegui's comments in Algeciras, the PP group in Parliament made a formal request for Spanish Foreign Minister Trinidad Jimenez to explain what meetings had been held recently regarding Gibraltar and, in particular, the sovereignty of its waters.
The petition came a fortnight after Gibraltar Chief Minister Peter Caruana met senior Spanish official Bernardino León, a former architect of the trilateral process, in San Roque to discuss recent developments.
The meeting was described by Madrid as 'unofficial' and Mr Caruana later said that "these were not negotiations", but rather an attempt to get back to the formal talking table. But the PP remains unconvinced and now wants the Spanish Foreign Minister to provide more detail to Parliament in Madrid.
The PP has already dubbed the meeting between Caruana and León as "diplomatic clumsiness" by the PSOE government. Landaluce said that for Spanish official to hold a meeting with Gibraltar's Chief Minister in the absence of any representative of the British Government "goes against Spanish interests".
The Conservative PP of Mariano Rajoy is poised to win next year's election given the strong showing in public opinion polls.