China says new IMF chief should better represent emerging economies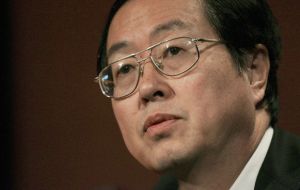 The new leadership of the IMF should reflect changes in the world economic order and be more representative of emerging market economies, People's Bank of China Governor Zhou Xiaochuan said on Thursday.
The selection of IMF senior leaders should be open and transparent and take into account candidates' "achievements, capabilities, diligence and virtues" Zhou said in comments posted on the central bank's website after Dominique Strauss-Kahn resigned as the fund's managing director.
"The make-up of top management should better reflect changes in the global economic structure and better represent emerging markets," Zhou Xiaochuan said in response to the resignation of Strauss-Kahn, who faces sexual assault charges in New York.
He said G20 nations had "already decided that IMF leaders and high-level management must be elected through an open, transparent and meritorious process."
The IMF has long been dominated by Western powers and faced growing calls to adapt to a changing global reality. G20 leaders agreed last November to reform the Fund's 24-member board of governors, in a move designed to give emerging economies such as China, India, Brazil a bigger say.
Europe agreed to give up two seats, and Brazil, Russia, India and China were to be among the top 10 IMF shareholders, with China moving up to become the third-largest shareholder from sixth place. But those changes have not yet been implemented.
Zhou's comments, given in a three-paragraph response to a journalist's question, echoed those of Chinese Foreign Ministry spokeswoman Jiang Yu. Speaking at a regular briefing in Beijing Thursday, Jiang said IMF leadership should be chosen on the basis of "impartiality" and "merit," and that developing nations should be represented.
The official People's Daily -- China's Communist Party mouthpiece – went further on Thursday and suggested the new IMF boss should be Chinese.
"One of the key jobs of the IMF is to monitor trade and provide capital assistance, which the rising China is good at,' it said in an online comment piece.
It pointed to several Chinese who had taken pole positions in global finance, including Zhu Min, a former deputy governor of China's central bank and a special advisor to Strauss-Kahn.
Chinese media has speculated that Zhu could be a candidate to succeed his former boss.
"It will be great sign of respect for a rising China and a symbolic step of optimizing the international financial order if the 24 executive directors who hold shares of the IMF can see this clearly and elect a Chinese president of the IMF" the People's Daily said.