Argentina posts strong primary surplus pushed by economic growth and inflation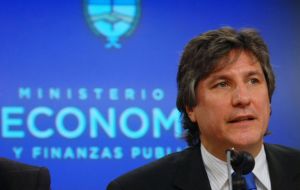 Argentina posted a primary budget surplus 1.97 billion Pesos (455 million US dollars) in April, up 4.8% from the 1.88 billion Peso surplus a year earlier, the government said on Thursday.
The budget surplus grew on the back of revenue from social security contributions, income tax, consumer taxes and exports, the economy ministry said in a statement.
Solid economic growth, running at about 9%, is boosting tax revenue in Argentina and helping the government maintain primary budget surpluses despite high public spending growth rates.
"We're maintaining a robust surplus, which is even higher than (2010), a year of strong economic growth," Economy Minister Amado Boudou told a news conference.
President Cristina Fernandez de Kirchner is expected to keep up spending ahead of October's presidential election in which she is widely expected to seek a second term in office and public opinion polls show her leading comfortably.
In the first four months of the year, the primary budget surplus totalled 6.82 billion Pesos.
The primary budget figure shows government savings before debts are paid. It is an important gauge of the government's fiscal health in Argentina, which has been virtually shut out of global credit markets after a massive 2002 default.
Argentina registered a primary budget surplus of 1.298 billion Pesos in March 2011.
Minister Boudou also revealed that negotiations with the Paris Club of creditor nations are ongoing and "challenging".
"The talks are challenging and have many aspects" said Boudou.
Earlier this La Nacion newspaper reported that Argentina is seeking to pay off about 8.4 billion US dollars in defaulted debt to the Paris Club over a period of up to six years.
Although the proposal is considered 'viable' the stumbling block continues to be the IMF auditing of Argentina's economy numbers which the government of Cristina Fernandez rejects point blank.
The Kirchner administrations (Nestor and Cristina) have made the IMF (politically) responsible for the heavy indebtedness of Argentina which led to the 2002 melting of the economy and default.
In 2005/06 Argentina repaid all pending loans to IMF and turned its back on the multilateral organization.
However Cristina Fernandez has invited the IMF to help elaborate a new consumer price index, CPI, since the indices from the official statistics office, Indec, particularly inflation is questioned both domestically and internationally. Indec affirms annual inflation is in the range of 11% while all private consultants (and organized labour, strong allies of the government) argue it's at least double in the range of 25%.
This also generates a suspicion factor extensive to all Indec indices and statistics.