Air France's Atlantic crash: speed probes seem to have iced reports Germany's Spiegel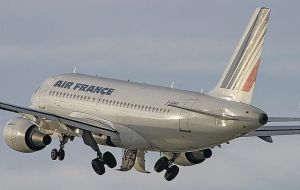 Air France plane crashed into the Atlantic in 2009 because of a sudden stall, the German Spiegel magazine reported Sunday citing an expert involved in analysing data from the plane's flight recorders.
Investigators said on Friday they would announce initial official findings from their probe later this week.
Spiegel magazine, quoting an unnamed expert, said the exact causes of the crash were not known, but data suggested the plane's speed probes, known as pitot tubes, iced up, resulting in the Airbus A330's failure to register correct airspeed.
The accident, which resulted in the death of all 228 people aboard the plane, happened over just four minutes, according to data from the flight recorders recovered last month from the bottom of the ocean.
Further more according to the voice recorder, chief pilot Marc Dubois was not in the cockpit when an initial alarm rang out. He is heard running into the cockpit and "shouting instructions to his two co-pilots," the expert told Spiegel.
The plane, en route from Rio de Janeiro to Paris on June 1, 2009, appeared to have avoided an area of strong turbulence, but its pitot tubes gathered ice particles from the weather front.
Then "the data recorder indicates an abrupt heaving of the machine shortly after airspeed indicators failed," the expert said. This resulted in the plane's deep stall.
It was not clear if this was the result of pilot error, or if onboard computers had automatically kicked in to compensate for what appeared to be a sudden loss of power, the magazine said.
The case has been closely followed in Germany because 28 of the passengers were German, said Spiegel.