France wants to combat commodities volatility, not limit prices
Monday, May 23rd 2011 - 06:16 UTC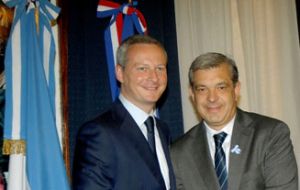 The best way to cool soaring food prices is to boost output, the Argentine government said, following talks on a French proposal for increased regulation of commodity markets in the framework of a G20 meeting in Buenos Aires.
France is seeking support from the G20 group of wealthy and developing economies for reforms aimed at stabilizing the market by easing the peaks and troughs that are common in exchange-traded commodities.
Argentina is one of the world's biggest exporters of soybeans, corn and wheat. Like neighbouring Brazil, it says bigger harvests are the solution to rising food prices that have fuelled months of protests across North Africa and the Middle East.
"The challenge of world food security will be met with more production, better technology and more competition among more producers," Argentine Agriculture Minister Julian Dominguez told a joint news conference with his French counterpart, Bruno Le Maire.
Big food producing nations initially worried that France's proposal might involve price controls, but Le Maire sought to put those concerns to rest during his visit to Buenos Aires for a G20 working meeting on the regulation proposal.
"We want to combat excessive price volatility," he said. "France does not want to limit prices."
Dominguez welcomed Le Maire's comments: "The clarification and interpretation that the minister has made is very important for our country and our producers."
Brazil last month reversed its earlier position, coming around to back France's proposal for increased regulation of commodity markets. Brazilian officials also say that raising agricultural output is the best way to control price spikes.
As countries around the world grapple with food inflation, France hopes to reach consensus on its plan at a meeting of G20 agriculture ministers scheduled for June in Paris.
Global food prices have been on the rise amid tight stocks and crop trouble over the past year from Russia to Australia to the United States, forcing countries like China and India to tighten monetary policy to tamp down inflation.