Violent riots in Argentine port on rumours two vessels were involved in Falklands oil exploration
Monday, May 23rd 2011 - 01:04 UTC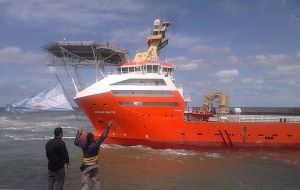 Two Norwegian flagged vessels contracted in support of Argentina's YPF oil rigs in the South Atlantic but which rumours had them working for the Falkland Islands, triggered major rioting and protests Friday and early Saturday in the city of La Plata.
The violent protest with attacks on private and government property was sponsored by the pro Kirchner mayor of Ensenada and supported by the extremist group Quebracho alleging that the 'Normand Baltic' and 'Normand Skarven' with 'Norwegian and UK flags' really belonged to a British company involved in the current oil exploration round in the Falklands and had come to Ensenada for fuel.
Ensenada is a major YPF complex including a refinery and hub for oil activities in the South Atlantic.
Ensenada mayor Mario Secco who apparently had information that the two vessels were really British and supplying the Falklands, organized a big rally and protest with posters saying "Pirates go Home" and "YPF-Repsol Traitors" while recalling that when the British tried to conquer Buenos Aires in 1806/07 they landed in Ensenada.
The furious protestors begun by burning a Union Jack and later attacked Ensenada port and YPF offices with stones paint bombs breaking doors and windows and later marched to the refinery headquarters with similar violence.
Mayor Secco said it was "inadmissible that the vessels were loading fuel none less than in Ensenada which was invaded by the British Empire over 200 years ago, and when so many of our boys fought for Malvinas. This is like a stab in out back".
However before the march took off the Argentine government informed Secco about the true situation and port authorities made a brief release on the case.
"The logistic support vessels 'Normand Baltic' and 'Normand Skarven' are Norwegian flagged and have been authorized to operate in Rio Gallegos, Punta Loyolas, Punta Killa, Ushuaia, Rio Grande, Comodoro Rivadavia, Puerto Deseado, Caleto Oliva, Bahía Blanca, Buenos Aires and areas of Argentine continental platform", said the Argentine government, "never in the Malvinas area under British control"
"They (vessels) have been authorized; put an end to all this…" was the order from government.
The authorization has been made known to port authorities, Coast Guard and other parties involved May 16 by the Ministry of Federal Planning, plus the fact that supply of fuel is "to be classified as for domestic market consumption".
Furthermore one of the vessels has a full Argentine crew (including one Uruguayan resident in Buenos Aires) and the other is also predominantly Argentine. One of the captains is Norwegian and the other Argentine.
However in spite of the information the radical group Quebracho had time to distribute pamphlets and inform the local media that the vessels "camouflaged as Norwegian" were really English and "we demand the immediate withdrawal of the vessels that have come to load fuel for the British imperialists in occupied Malvinas".
The extremists described the situation as a new aggression against "our sovereignty" giving fuel to those who "stole Malvinas to continue plundering our Argentine Islands. Someone in the national government allowed them to call in, but how could they believe we were going to remain quiet and with crossed arms?"