Former president Allende's family petitioning return of the AK47, a gift from Fidel Castro
Tuesday, May 24th 2011 - 18:59 UTC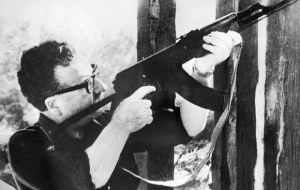 The family of Chile's former president, Salvador Allende, petitioned for the rifle AK-47 used on his alleged suicide to be found. Allende is supposed to have committed suicide in the midst of a violent army coup led by general Pinochet in September 1973.
According to the family's attorney Pamela Pereira "the family is travelling all lengths to determine where is located the weapon that killed Allende" she remarked.
"We hope the army, through their top authorities, provides us the rifle that was ceased when they stormed La Moneda Palace."
The family of the deceased president had already met with the commander in chief of the Chilean Army, Juan Fuente-Alba, in hopes of having their appeal heard. The AK-47 was a personal gift to Allende from Cuba's former mandate, Fidel Castro.
The remains of Allende, Chile's first elected Socialist president were exhumed Monday in Santiago in hopes of finally determining whether he committed suicide or was assassinated during the 1973 coup which was followed by a military dictatorship that lasted until 1990.