France says China supports Lagarde as next IMF chief given Euro zone situation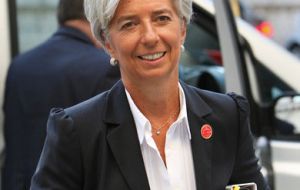 China would support Finance Minister Christine Lagarde as the next IMF chief the French government said backing which would put her firmly in pole position to succeed Dominique Strauss-Kahn.
Lagarde has emerged as the leading candidate to replace Strauss-Kahn, who quit last week to face sexual assault charges in New York, although Mexico is pushing the claims of its central bank chief and many emerging nations have said it is time for Europe's 60-year grip on the job to be loosened.
European governments want to retain their traditional control over the leadership of the multilateral lender while it is involved in major bailouts of Greece, Ireland and Portugal.
A number, including Germany, Britain and Italy, have already said they would back Lagarde and Ireland added its support on Tuesday.
"It's a European consensus," France's budget minister and government spokesman Francois Baroin told Europe 1 radio, asked about Lagarde as a possible contender for the job.
"The Euro needs our attention, we need to have the Europeans (on board), the Chinese support the candidacy of Christine Lagarde," he said.
China's foreign ministry said it had no comment on whether Beijing would back Lagarde, a 55-year-old former lawyer, to lead the IMF.
Last week, the head of China's central bank, Zhou Xiaochuan, said the IMF future leadership should reflect the growing stature of emerging economies, but he stopped short of saying its new boss should be from an emerging economy.
An advisor to the People's Bank of China, Xia Bin, told reporters a bigger issue than the succession was the United States' dominant voting share at the IMF.