US imposes sanctions on Venezuela's PDVSA for engaging in trade with Iran
Tuesday, May 24th 2011 - 18:46 UTC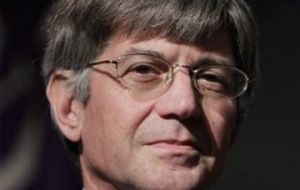 United States announced new sanctions on Venezuela's state oil company PDVSA and six other smaller oil and shipping companies for engaging in trade with Iran in violation of a US ban.

The State Department also announced additional sanctions on 16 companies and individuals from China, Syria, Iran, Belarus and North Korea for nuclear and weapons proliferation activities involving both Iran, North Korea, and Syria.

Upon imposing the sanctions, the Secretary of State, Hillary Clinton "wants to send a clear and sound message to companies around the world: those irresponsibly supporting the Iranian energy sector to evade European sanctions will suffer the consequences."

Deputy Secretary of State James Steinberg said the sanctions on PDVSA would prevent it from access to US government contracts and import/export financing, but would not affect the company's sale of oil to the United States or the activities of its subsidiaries.

Steinberg said the new US sanctions were aimed at squeezing Iran's gasoline supplies, and could have a serious impact as other companies recognize the risks of doing business with the Islamic Republic.

"By imposing these sanctions we're sending a clear message to companies around the world: Those who continue to irresponsibly support Iran's energy sector or help facilitate Iran's efforts to evade US sanctions will face significant consequences," Steinberg told a news briefing.

The companies covered by the new US sanctions include PCCI, the Royal Oyster Group and Speedy Ship of the United Arab Emirates, Tanker Pacific of Singapore, Ofer Brothers Group of Israel, Associated Shipbroking of Monaco as well as PDVSA.