Uruguay the most peaceful country in Latam, says Global Peace report
Wednesday, May 25th 2011 - 15:27 UTC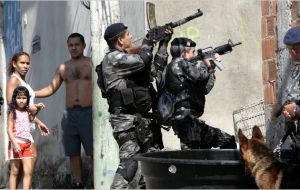 Uruguay is the most peaceful country in Latin America followed by Costa Rica and Chile according to the latest edition of the Global Peace reported released Wednesday by the Institute for Economy and Peace.
Uruguay is rated in position 21 out of a list of 153 countries which is headed by Iceland. In Latin America Uruguay is followed by Costa Rica (31); Chile (39); Panama (49), Argentina (55) and Paraguay (66) and Brazil (74).
Among the 23 indices assessed by Global Peace to rate countries are the level of domestic social conflict, military expenditure and conflicts with other countries so far this year.
Other Latin American countries in the annual list are Cuba (67), Bolivia (76), Peru (85), Ecuador (90), Dominican Republic (91), El Salvador (102) and Haiti (113).
Among the countries less peaceful in the region are Honduras (117), Mexico (121), Venezuela (124), Guatemala (125) and Colombia (139).
Globally the world has been described as "less peaceful" in 2011 because of global terrorism and violent protests, points out the Global Peace report.