Korean jiggers mooring off-season in Uruguayan fluvial port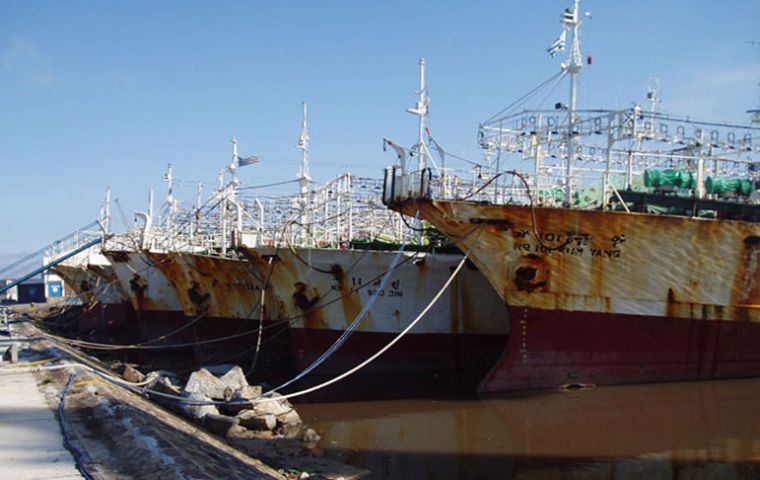 Three Korean jiggers which normally spend off-season time in Montevideo have moored in the port of Fray Bentos on the River Uruguay, as part of the de-centralization process launched by Uruguayan port authorities.
The port of Montevideo is planning an expansion with the construction of an additional jetty and needs much of the space currently occupied by the jigger industry to set up the work shop and material and equipments deposit.
Uruguay's national ports authority, ANP, confirmed that the project is to have the jiggers spend off-season time in the country's fluvial ports where they have ample space and can undergo similar services to those supplied in Montevideo.
"We are proposing the Korean jiggers to move up river with interesting incentives for their companies, and at the same time ensuring our fluvial ports have more activity and better development prospects", said ANP president Alberto Díaz.
"So far we have convinced nine Korean flagged jiggers and we know the Spaniards are also looking at the issue", revealed Diaz.
Further north from Fray Bentos, port originally built by the British for the Anglo abattoir a century ago and now recovered and expanded to provide services for the huge Botnia-UPM pulp mill, is Paysandú which also has good facilities and support services.
However additional costs are involved and the Korean agents are expected to keep close eye of this first experience.
To start with a pilot is needed for the 20 hours trip travelling at an average 9 knots, plus the additional fuel required covering the extra leg from Montevideo.
"It can be costly even when the draught of the vessels is no problem since the River Uruguay is deep enough and well signalled", admitted Fernando Tramontín, one of the pilots involved in the operation.