Brazilian government promises tax breaks in support of industry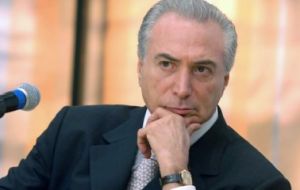 Brazil will respond to the requests from industry and unions to reduce taxes to help boost local manufacturing and thus cut into the growing impetus of imports, promised Vice-President Michel Temer during a seminar sponsored by the powerful São Paulo Federation of Industries, FIESP, together with the two main organized labour unions.
"I can assure that this reduction to enable a greater industrial push will be taken ahead by the government of President Dilma Rousseff" said Temer who discarded the possibility of cutting imports to protect Brazilian companies.
"There will be measures not to ban imports but to boost national industry in such a way that it can consequently help to reduce imports".
FIESP president Paulo Skaf underlined during his speech the significant cooperation between business bosses and workers in struggling for common objectives. "We have left aside minor interests, small divergences and we are committed to the great convergence that will help industry and Brazil".
However Skaf also complained reaffirming FIESP position regarding high interest rates and an overvalued local currency. "We can't go on with an overvalued Real which is artificially is dredging competitiveness from Brazilian productive sectors".
Union leader and lawmaker Paulo Pereira da Silva proposed that a measure with immediate effect for industry and jobs is eliminating taxes on payrolls and creating a "new contribution system for Social Security".
He also complained bitterly the policy of some (18) Brazilian states that have lowered taxes on imported goods "which only help to create jobs overseas".