Lamy calls G20 not to fall prey of protectionism; points to Russia and Argentina
Friday, May 27th 2011 - 09:15 UTC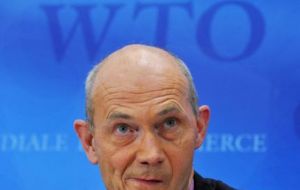 World Trade Organization Director General Pascal Lamy warned world leaders that adopting protectionist measures can have "devastating effects" on the global economy. Addressing the G 20 group Lamy called on the leaders to resist "the temptations of protectionism".
"The bad news is that in the last six months we have seem more protectionist measures applied than during the crisis", said Lamy, and when asked about the consequences he was straight to the point: "Effects can be devastating; the G20 leaders must address this issue most seriously".
Lamy mentioned among countries that have adopted protectionist measures: Argentina, Russia and Ukraine.
In the case of Argentina, the Brazilian government reacted by suspending the automatic import licences on cars and auto-parts. To be more precise the Brazilian measure covers all imports of cars and auto parts, which means not only Argentina but also Korea, China, the US and the EU.
However the impact has been more dramatic for the Argentine industry given its Brazil dependency. Brazil absorbs well over half of Argentine auto exports, the auto industry is the most dynamic of the country's manufacturing sector and Brazil is the main trade partner together with China.
For the Brazilian government the appliance of non automatic licences (which can delay imports up to 60 days and is a mechanism contemplated by the WTO) was 'necessary' because Argentina was delaying under the same scheme but beyond 60 days, Brazilian shoe wear, tyres, chocolate and sweets among a long list of produce.
Lamy also regretted the interruption of the Doha Round negotiations, "disappointedly at this moment we are in a serious impasse".
Negotiations are blocked by the United States that is demanding emerging countries such as China, India and Brazil reduce tariffs on some manufactured goods in some cases to a zero rate.
Lamy said that the Doha Round of negotiations was not dead but that the current way in which agreement had to be reached on each point in the negotiations meant that failure to agree on everything blocked progress.
"The reality is that we've done a lot of work for the last ten years but for the moment the negotiations are stuck on one of the 20 issues which we have been dealing with, which is the reduction of industrial tariffs which is a stalemate with the US on one side and emerging countries like China, India and Brazil on the other side. As long as we remain with this system where nothing is agreed until everything is agreed, stalemate on one of the topics for the moment blocks the progress of the negotiations," he said.
"I think there is some urgency for G20 leaders to renew this firm commitment that they will not recourse to protectionism in order to exit the crisis".