Pimentel anticipates more 'active measures' to defend Brazil's industry
Friday, May 27th 2011 - 09:24 UTC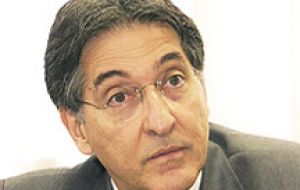 The Brazilian Government announced that it is considering additional import restrictions on top of the ones already applied to vehicles, as a measure to defend their national industry.
The statements were made by Development, Industry and Foreign Trade Minister Fernando Pimentel during a seminar, in which he said that Dilma Rousseff's government had decided to implement "active measures" in order to protect their business.
"We will be implementing additional measures such as non-automatic licenses on imports, a move that is allowed by the WTO, on those sectors in which we feel there's a clear threat to our trade balance," Pimentel explained.
Brazil decided to apply non-automatic licenses on imported vehicles, which outraged the Argentine Government, its main partner in the Mercosur, who at the same time was accused by Brazil or setting roadblocks on the import process of their products into Argentine territory.
"We will use any measure available within the WTO rules in order to defend competitiveness. Wherever there's a threat against our trade balance, we will make use of any defence mechanism available," he said
Pimentel also admitted that the Brazilian currency Real is "excessively valued" but there's not much that can be done. He blamed developed countries crisis and strong growth of emerging economies such as Brazil, China and India.
"That's the world scenario and there's no way running away from it", said Pimentel. "We will have to learn to live with this situation of an overvalued local currency for some time to come".
Pimentel was one of several ministers and high officials from the government invited to a forum on "Brazil of dialogue, production and jobs" organized by the powerful Sao Paulo Industry Federation, FIESP, and the country's two main organized labour groups. Forca Sindical and CUT.