Unasur Defence Council has to protect the region's vast and strategic resources
Friday, May 27th 2011 - 22:03 UTC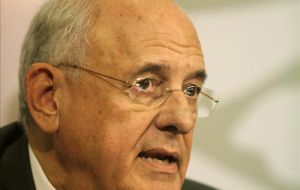 The Union of South American Nations, Unasur, has among the objectives of the recently created South American Defence Council protecting the natural resources of the region which include 25% of the world's drinking water and proven oil reserves estimated in 123 billion barrels of oil.
This week Unasur member countries Defence ministers and representatives met in Argentina for the official opening of the Defence Strategic Studies Centre, CEED, the first permanent body of the Unasur Defence Council which will have its offices in Buenos Aires.
"The region (South America) has assets of growing strategic significance and need to be preserved and protected", said Brazil Defence minister Nelson Jobim one of the several speakers at the special inauguration seminar
Jobim mentioned among those assets 25% of the world's drinking water reserves in aquifers and 123 billion barrels of proven oil deposits.
The seminar was attended by over 200 people including Unasur Secretary General and former Colombian Foreign Affairs minister Emma Mejia, Defence ministers, military experts, academics and diplomats.
"Out of the region are attempting to create strong discrepancies in a region that is the most peaceful strategic space on earth", added Jobim.
Ecuadorian Defence minister Javier Ponce said that "with Unasur, it's the first time the region is working on a regional defence strategy outside the tutelage umbrella from the United States".
He added it was time we dismantle the TIAR (Inter American Reciprocal Assistance Treaty) brain child of Washington and which has as its main purpose impede out of the region aggression and if that is the case, the rest of the continent would come in support.
But it failed when the Argentine military dictatorship was defeated by a British Task Force sent in 1982 to recover the Falklands/Malvinas Islands which had been taken by force in early April that year.
Washington then openly supported its main NATO ally, the UK.
The ministerial meeting in Buenos Aires was the first major event the Unasur Defence Council with the inauguration of the Defence Strategic Studies Centre for the defence of the twelve members of the group
The DSSC will function at the 'Nestor Kirchner' Big House of the Motherland and will be fed with contributions, reports, papers elaborated by professionals from the 12 countries with the purpose of helping draft and outline strategic policies to be implemented by the Council.